MISCELLANEOUS MEDIA
---
RECORD COVERS
The cover of The Drama According to Bernadette Cooper (MCA10058) features Cooper in a black leather SJ.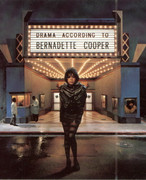 Madcats, an obscure late-'70s hard rock band, had a woman with tigress makeup in an older Posey SJ (metal buckles and grommets, straps in front) on the cover of their eponymously titled LP, with disembodied muscular arms holding her. You can find the cover photos on the Misogynistic Album Covers site.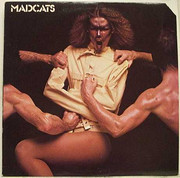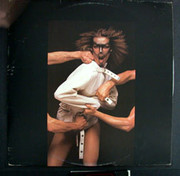 The inside flyer for Kate Bush's "Rubberband Girl" CD-single has a pic of her SJed, taken from the music video (see below).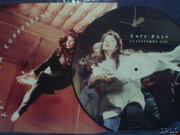 And of course, there's Pat Benatar on Get Nervous, which is still in print. Head shots from the same photo session also appeared on the sleeves of the American 45s for "Little Too Late" and "Shadows of the Night", the labels of a 12-inch single of "Shadows of the Night" pressed on blue vinyl, and the cover of the video collection Hit Videos, which contains the video for the "Anxiety (Get Nervous)".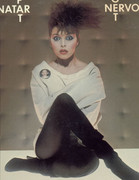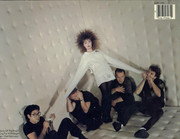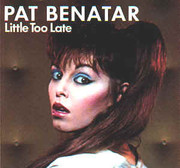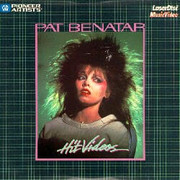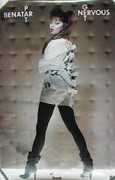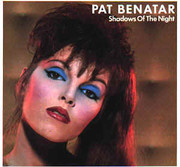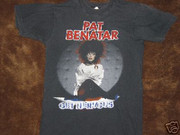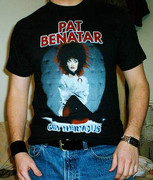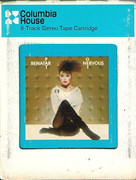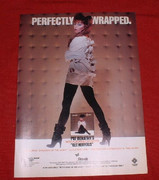 Karen DiBiasse, vocalist for Girl on Top, is seen in a fake SJ on the back cover of Sue is Sane (STR).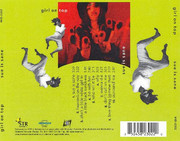 The female rapper Bo$$ (see her listing in Music Videos) is seen in an SJ on the cover of her 1993 album Born Gangstaz.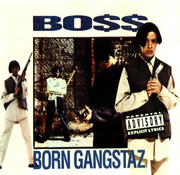 The cover for the CD "Sadness Will Prevail" by Today is the Day shows what could be an SJed woman, huddled in a corner.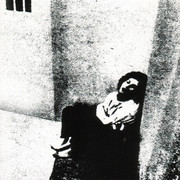 On the cover for "Something's Gotta Give" by Roosevelt Franklin, a young woman sees herself SJed in a mirror (looks like a Posey).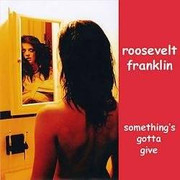 The cover for "Dysfunctional" by the group Sal looks like it has an SJ on the cover, but it's hard to determine if it's real or not.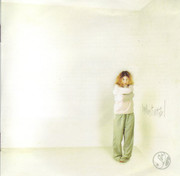 The cover for the Greater Than B CD "Songs For Therapy" shows an SJed woman lying on a quilt.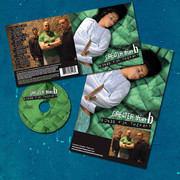 The cover for the EP "Call Me Crazy, But..." by the R&B singer Sevyn Streeter shows her a black lace SJ with a leather harness over her arms and around her waist.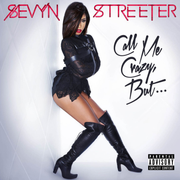 MUSIC VIDEOS
NEW! The video for "Lunatic" shows Sarafeena in a hot pink SJ (thanks to Renfield).
The video for "1er jour D'École" ("The First Day of School") by Chilla shows dancers of both genders wearing SJ-inspired costumes (thanks to Torteval).
The rapper Mika Luciano wears a white leather SJ in the video for her song "Lioness" (thanks to Torteval).
In the video for De Läb by Alles Easis feat. Claire, a blonde is seen walking around a house in a cream canvas straitjacket with leather straps. She leaves the house at the end, but is still in the jacket.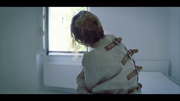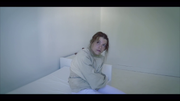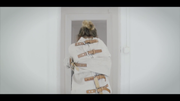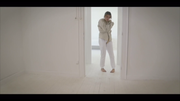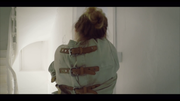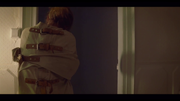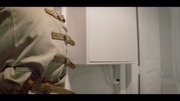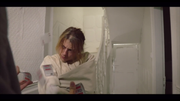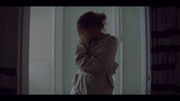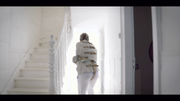 The video for "Crazy" shows Kiddo wearing an SJ with D-rings for strap buckles (thanks to Renfield).
Tana Mongeau wears a partially-fastened small Posey SJ in the video for "Fuck Up (go to 1:50) (thanks to Don).
The video for "Schizophrenic" by Night Club shows the female singer in triplicate, all wearing costume SJs (thanks to Torteval).
The video for the hard rock song "Lost My Mind" has several quick shots of Clarissa Serna in a magician-style SJ (thanks to Don).
The Argentinian trio Sonora China covered Gloria Trevi's song "Dr. Psiquiatra", showing the female singer in a costume-style SJ. Their Facebook page also has a short video of the group performing live on the show "Pasion de Sabado" as well as a nice promo pic (thanks to Mariano).
The video for "Black and Grey" by the metal band StormSons features several shots of a blonde in an SJ (thanks to Renfield).
Kate Nash wears what looks like a Humane Restraints jacket with the buckles in front in the video for "Life in Pink". Nash has pictures from the video on her Instagram account here and also here (thanks to Mariano).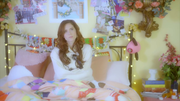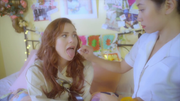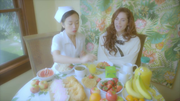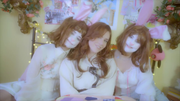 Annette Moreno wears a white-collared Posey within a padded cell throughout the video for "Ansiedad" ("Anxiety"). There's also a short video of the video's director, Elizabeth Yoder, modeling a green-collared Posey on her Instagram account (thanks to Renfield).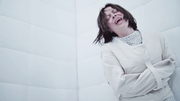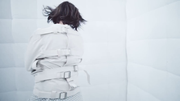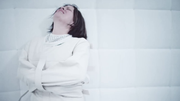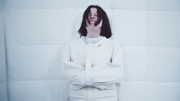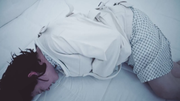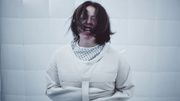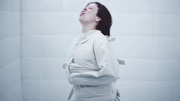 There are several shots of a hot blonde in a straitjacket for the video of "Neurophobic" by the death metal band Sinister (thanks to Mariano).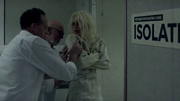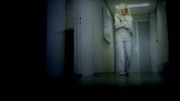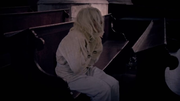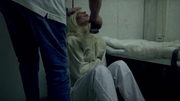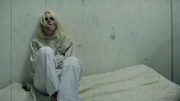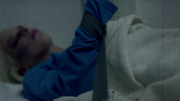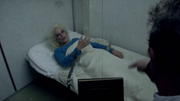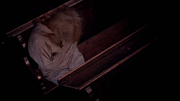 In the video for "Maniac", singer Jhené Aiko appears in bondage for most of the video, including latex and canvas straitjackets.

Puño Libre singer Sabrina Llenza is wearing a straitjacket and chains in the video for "Bitchin' Pox" (thanks to Renfield).

Chicago-based rapper Jovan Landry released "The Conscious EP" as a free download on her BandCamp page with accompanying videos. The video for "Progression of our People" show Jovan in a custom-made SJ. She also wore the jacket to a performance you can see on her Facebook page (thanks to Mariano).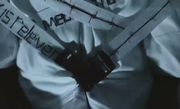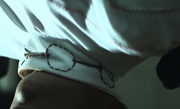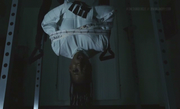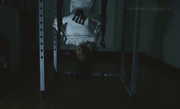 Duran Duran's video for "Come Undone" featured a woman thrown underwater in chains and a full-length quasi-SJ made out of shiny fabric, with closed sleeves and ties at the ends; she lip-syncs the female backup vocals and escapes from the restraints by the video's end. Like so many videos nowadays, this is available on YouTube.
Bo$$, a female rapper, made a video for the song "Deeper", which featured a young black woman with short hair, tied in a Posey SJ, and locked in a padded cell in a state prison. The end of the video showed the SJ on the bottom of the cell, with blood covering the walls; the woman is nowhere to be seen. A hi-res video file is available at Boss' AOL Music site.
One of the members of Skunk Anansie, a tall athletic black woman, appears in a rubber SJ in the video for "Charity." The video is available in HD on YouTube (thanks to R.C.).
Lari White, a country-&-western singer, made a video for "Wild At Heart" which took place in a mental ward, with White dancing around in a large Posey jacket. Outraged cries from mental health advocates quickly resulted in its removal from the airwaves, though you can easily find it on YouTube. I put an edited version on ZippyShare.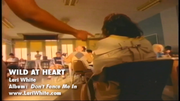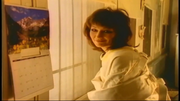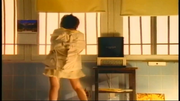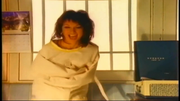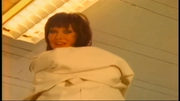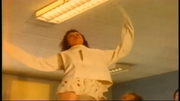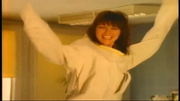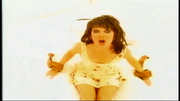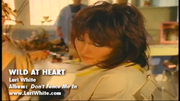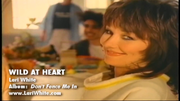 The video for "Therapy" by the Infectious Grooves (with Ozzy Osbourne on guest vocals) had two split-second shots of a crying blonde in an SJ. It's available on YouTube and at AOL.
The video for Quiet Riot's "Cum On Feel The Noize" is set in an asylum, and you can occasionally see an SJed female in the frame.
Pat Benatar spends some time in a Posey SJ in the video for "Anxiety (Get Nervous)." Here's the video on YouTube, while it lasts (Thanks to highwing). You can also download it from Danger Theatre.
I've heard that there's a SJed woman in the video "Falling in Love (Is Hard On The Knees)" by Aerosmith. I haven't seen the entire video, but I did see a clip on an awards show that showed lead singer Steven Tyler in an SJ. I've also read that an SJ was used in their video for "Crazy."
In the video "Toxygene" by the electronica group The Orb, a blonde is seen in a Posey SJ for about 30 seconds. It's available on YouTube.
In the video "Crazy Love" by R&B singer Rome (featuring Chill), inmates at the "Loony Bin" perform dance sequences in brown (suede) SJs. Quite surreal. Someone's got it up on YouTube.
Kate Bush spends some time in a canvas SJ in the video for "Rubberband Girl," which is available on the "Whole Story '94" video CD and the video "The Line, The Cross, and The Curve." Bush is placed into a lace-up SJ by one of the male dancers in the video, but they spend their time waving their arms around, and she never gets properly tied. The video's been uploaded to YouTube.
In the Alice Cooper video "How You Gonna See Me Now?", Cooper is released from an asylum and returns to his old home, only to find that his family is being SJed and loaded in an ambulance. The three family members, two of whom are female, are wearing regulation canvas SJs and the familiar Alice Cooper eye makeup. (thanks to Rodrigo)
In the video for "Violently Happy," Bjork bounces around in a small room, wearing a gown with very long sleeves. Her scenes are i ntercut with scenes of other people in the same room, acting strangely. This is a rather ephemeral entry, but I enjoy playing the nerdish completist. :-) Anyway, you can check it out on YouTube.
Speaking of ephemera, Tori Amos is seen in an SJ with untied arms in her video for "Cornflake Girl."
The British soul singer Ultra Nate wears a silver SJ-dress in the video for "Free." You can examine it on YouTube.
In the video "Ava Adore" by The Smashing Pumpkins, there is a scene in a mental hospital with an SJed woman, at the beginning. Check it out on YouTube.
The video for the dance song "I Can't Help Myself" features Lucid in an SJ; you can see it on YouTube.
One version of the Suicidal Tendencies video Institutionalized contains shots of the protagonists' parents SJed, as well as an SJ fashion show (?!?):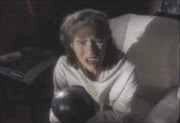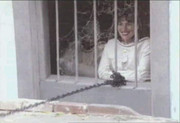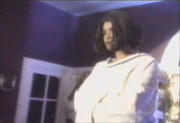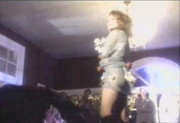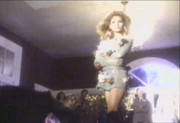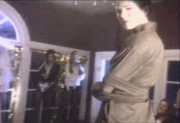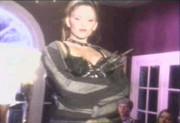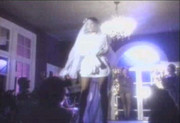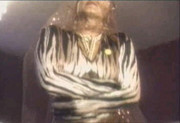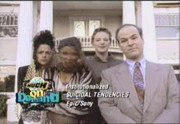 Aaaaaaaaand it's now up on YouTube!
The N'Sync video "I Drive Myself Crazy" ends with shots of two of the band's girlfriends in loosely tied Posey SJs. The video, of course, is available on YouTube.
Some people think Kelis is wearing a leather SJ in her video "Caught Out There," and others think she's just wearing a regular jacket, with her arms crossed. You can judge for yourself below: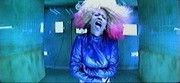 The video for "Wrack My Brain" by Ringo Starr shows him exploring a dank basement and discovering the Frankenstein monster and two SJed women, one of whom was his wife Barbara Bach. More details can be found at the Beatles Diary site, and the video is back on YouTube.
The video for "Something Beautiful" by the nu-metal band Cauterize is a homage to the classic Twilight Zone episode "Terror at 20,000 Feet", with an attractive brunette filling in for William Shatner, and the band members taking turns as the monster on the wing. At the end, the Posey-jacketed woman is loaded into an ambulance: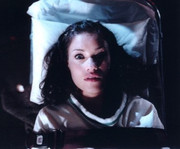 It's now available on YouTube.
The video for "Damn Sexy" by Posh seems to take place in a mental hospital, with the female singer SJed for a good part of the clip, which can be downloaded at the Posh - Power Pop site, and is also available on YouTube.
The video for "Crazy Chick" by teen opera singer Charlotte Church contains a few shots of her in a magician's SJ (it appears to have that leather strip down the middle of the front). A portion of the video is available "exclusively" from Video-C, but it appears the entire video can be downloaded from the T4 site, as well as YouTube.
What is it with classical singers and SJs these days? At the end of the video for "My Reason" by Keedie, the singer is struggling in a grey SJ with several chains attached. You can see the video on YouTube.
Missy Elliot ends up in a black leather SJ in a padded cell for much of the video for "Teary Eyed". The official clip is up on YouTube (thanks I.F for the updated link).
The video for The Falling Kind by Veda features an untied SJ.
The video for Life on The Sun's song "Kings Of Fall" has some brief SJ shots.
There's some nice SJ shots in the video "Anodyne" by Ripped, as well as in the making-of featurette (thanks to Renfield). There's another behind-the-scenes shot on Flickr.
There's a brief shot of an SJed woman struggling in a chair at the end of "Rock You To Hell" by Grim Reaper. This video is mocked in episode 109 ("Bad Dog"; original air date 02/09/1995) of the old Beavis and Butthead show.
The full video, which contains another brief SJ shot that wasn't in B&B, is up for viewing on YouTube (thanks, ARNie).
Mexican singer Ana Barbara is seen in a weak-looking SJ in the video for "Loca".
There are some decent SJ shots in the video for "Elisa" by Vidoll.
The video for "Tight Beatz" by Alien Entertainment featuring Furious Steez takes place in a mental ward, where several patients magically materialize in a padded cell and start dancing to the song. However, the attendents come and SJ them and place them back in their individual cells. You can see the video on YouTube.
The video for Zoey's cover of Bjork's "Venus as a Boy" has some excellent shots of the Japanese singer struggling in a red-collared Posey SJ with roller-buckle straps.
Most of the video for "The Phrase That Pays" by The Academy Is... shows the (male) lead singer in an SJ, but at the very end, we see the actress portraying a nurse in an SJ, straps in front with no struggling.
The video for Embas' song "Realidad Elusiva contains some nice SJ shots.
The video for "Black Secrets" by Million Dollar Baby has some shots of the attractive blonde singer in an SJ with leather straps in the front, and a lot of good struggling.
The video for "Cane Hill" (a real-life abandoned mental institution) by Finding Pedro shows the lead singer in a smock-type SJ, and looks like it was shot in blurry, Blair-Witch-Project-o-vision.
The video for "Coma" by Smith Island follows the hallucinations of a woman in a coma at a hospital, and shows her in what appears to be a smock-style SJ.
At the end of the video for "Headstrong" by Liisi Koikson, the singer tries to escape from a mental hospital, but is wrestled into an SJ by two orderlies and led back to her room.
There are some nice shots of a woman struggling in a magician's SJ in the video for "The Falling Kind" by Vedera.
In the video for "Crazy" by Sheeck featuring Suga Free, one woman is seen struggling in a low-cut SJ-style top.
The lead singer for Psycho Nation dances in a custom SJ in the video "Living Dead".
The members of the girl group Her Sanity make all-too-brief appearances in SJs at the beginning and end of the video for "Xclusive".
The video for "Bonzaion" by Loco Locass has a scene with SJed men and women dangling in a room.
The video for Kenny Texeira's "Straightjacket Blues" shows him in a fake SJ throughout, being taunted by a nurse and two orderlies, but the nurse falls for him and ends up SJed at the end.
Controversial Mexican singer Gloria Trevi appears in a smock-style SJ in the performance video for "Dr. Psiquiatra" (which appears on the La Historia DVD), and an actress is shown in a similar Sj in the video for "Psicofonia"..
The new video for "Outta My Head" by Ashlee Simpson ends with her tied in a fake SJ and flying around a padded cell. There's a pic of her at Just Jared, and of course the entire video is available at Yahoo! Music and YouTube. YouTube also has a promo video with more SJ footage.
In her video "vglyad iznutri", Russian singer Linda spends most of her time in a long smock-style SJ.
The video for "Damage" by Fit For Rivals features singer Renee Phoenix in a padded cell, wearing a green-collared Posey with roller buckles and metal grommets on the straps. The entire video (with lots of great shots of Phoenix) is available on Vimeo. There's a few behind-the-scene photos at Blank Image Arts and similar video footage on YouTube.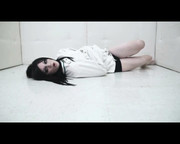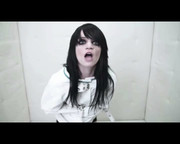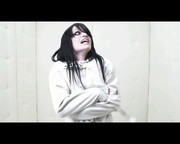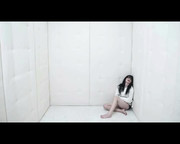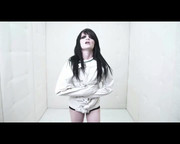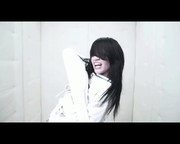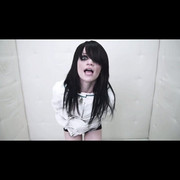 The rather astounding video for "Mi Delirio" by the Mexican singer Anahi not only shows the blonde twitching in a white canvas SJ with a collar and leather straps, but also contains a scene with her SJed body tied to a table with duct tape and (it's suggested) subjected to ECT! She also wears a fetish-style brown leather corseted collar in the latter scene. This making-of-the-video video shows the set up for the main part of the video, while this fan video contains a shot of the ECT scene.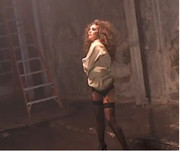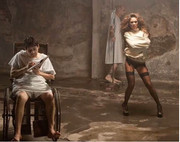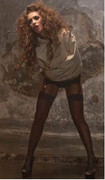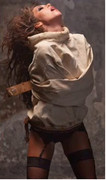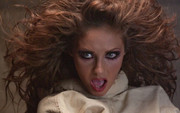 <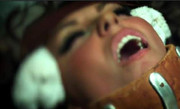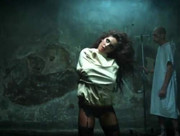 Anahi also wore the SJ while performing the song on her recent tour. You can see a representative clip from the Sao Paulo show on YouTube. There are also a pile of caps and a low-quality download of the video at Danger Theatre. (thanks to I.F. for the updated link to the official video)
Ana Cyzon is seen energetically struggling in a green-collared Posey in the video for her song "Reputation". You can also find stills from the video at the singer's MySpace page.
The video for Fun Time by metal band A Wilhelm Scream shows three young women in black SJs in padded cell, as well as the male singer in a white jacket. You can also see pics from the video shoot at Act 5 Scene 3 Photography.
In the video for My Chick Bad by Ludacris, featured singer Nicki Minaj is briefly seen in a hot pink SJ with her arms untied.
The female protagonist in the video for "Born Dead" by The Autumn Offering is seen in a straitjacket at the very end of the video.
The video for "Out Of My Mind" by B.o.B. featuring Nicki Minaj takes place in a mental hospital, and features both rappers in straitjackets.
The female escapologist known as Sof Strait is trying to get started on a music career, and just released a video for her cover of Tears For Fears' "Mad World", showing her in a small Posey jacket.
The video for "Whole Other Kind" by Australian rock band Dear Stalker features the female vocalist in a ratty-looking SJ.
A woman with rainbow-colored hair is seen sitting on the floor wearing an SJ at the end of the video for "Life Imitates Art" by ANTHM.
In the new video for Soundgarden's "Been Away Too Long", a young woman frees herself from a lace-up green-collar Posey jacket in the first minute.
The video for "Anxiety" by Megyn Hermez shows the singer in a fake SJ. There are a ton of behind-the-scenes pics on her Facebook page.
The video for "Sanctuary" by Ben Moody (formerly of Evanescance) shows a woman struggling in a straitjacket with leather straps and a strange black helmet throughout the video.
Jennifer Bartlett, the lead singer for the metal band Four Fine Titans, appears in a straitjacket in their video for "Ellipsis". You can see a ton of caps and download the video at Danger Theatre. (Thanks to ARNie! for the tip.)
In her video for the song "Pretty Hurts", Beyonce is briefly shown in what looks like a fur straitjacket as she's being injected with botox (at the 5:35 mark). (Thanks to Cris for the tip.)
The video for My FB Song ends with singer April sitting in a wheelchair in a white latex SJ. (thanks to SJS)
The video for "Lose My Mind" by country singer Brett Eldredge shows the (male) singer in a Posey for the entire video, but there is a brief shot of the female lead in the jacket about a minute in.
Rock musician Madame Mayhem spends about half of the video for "Monster" writhing inside a green-collared Posey, although they didn't use the arm loops nor the crotch strap. Makeup artist Hannah Sherer also posted a still from the video on her Instagram account. (thanks to Renfield)
A blonde spends nearly the entire video for "Ain't No Life" by the metal band Trailer Park Sex in a straitjacket with leather straps, locked in a tiled room with a rat. (thanks to Renfield, ironically)
In the video for "Missy", former adult film star Channon Rose is seen sitting in a white room in a straitjacket. There is more footage in her "Mental Patient Makeup Tutorial" (thanks to Mariano)
P!nk winds up in a straitjacket at the end of her video for "Just Like Fire", her contribution to the new Disney film Alice Through The Looking Glass.
In her video for "16 Psyche", Chelsea Wolfe appears in a black latex straitjacket and a white SJ-style costume. (thanks to Sean)
The video for Fergie's "A Little Work" is heavily autobiographical, based on an incident where a meth-crazed Fergie barricaded herself in a church, thinking that the FBI and SWAT teams were waiting outside to kill her. The video shows her lying in a bed in a unique straitjacket and neck brace, with her ankles shackled to the bed, about 2 minutes in. She also walks around a padded cell in a straitjacket-style dress (thanks to Rodrigo).
The video for "Shutter Island" shows Jessie Reyez straitjacketed and chained inside a water torture cell. She also posted a behind-the-scenes video on her Instagram account (thanks to Mariano).
The video for "Excuse My French Kiss" shows Lorène Aldabra wearing an interesting SJ with two crotch straps. She also posted a still from the video on her Instagram account (thanks to Mariano).

The video for "Fuck Your Money" by electropop musician Elohim takes place in a mental hospital with several shots of her in a Humane Restraints jacket (thanks to Rodrigo).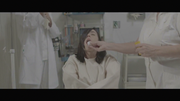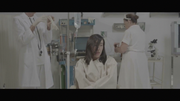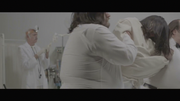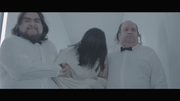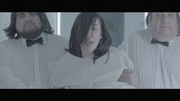 A mental hospital is also the setting for pop band THEORY's video for "Straight Jacket". The video shows the (male) band members tied in jackets, but they get their revenge at the the 3:40 mark, when we see a cute black nurse in an SJ and a blonde nurse in 4-point restraints.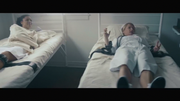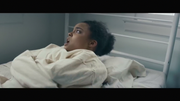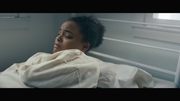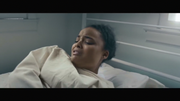 There's a couple of decent shots of Torii Wolf in a canvas-and-leather SJ in the video for "Silent Crow".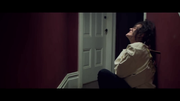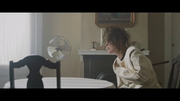 Fields, the female half of the Irish indy-pop group Brufield, is seen in a canvas jacket with leather straps in the video for "Unhappy". There is also a still on Field's Instagram account.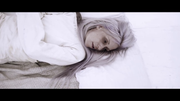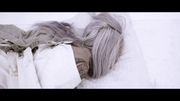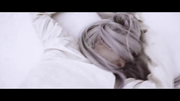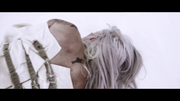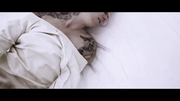 The Finnish singer Tania wears a medium Posey throughout the video for "Kuuntele Mua", and she also put a pic up on her Instagram account (thanks to Don).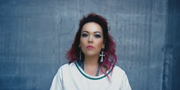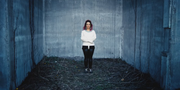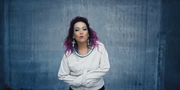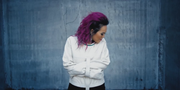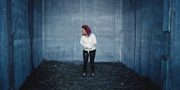 CONCERTS
The young R&B singer Janelle Monae has opened her recent concert tour by being wheeled out in a straitjacket. Cris sent me some pics from a concert in Miami: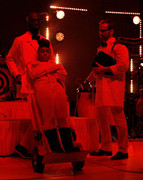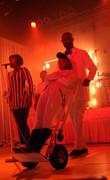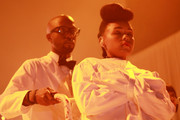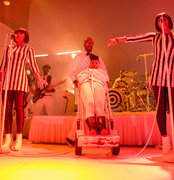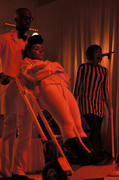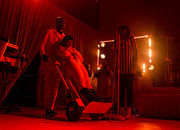 You can also read a concert review (with pic) at A Creative Loafing - Charlotte.
In the "Peacock Interlude" video shown during Katy Perry's Prismatic World Tour, Perry is seen in a triangular padded cell in a straitjacket suit, literally bouncing off the walls until she frees herself. You can see the video on YouTube (thanks to Cris and Kevin).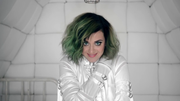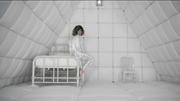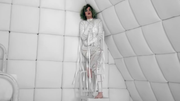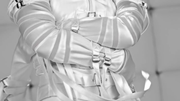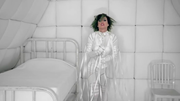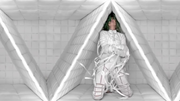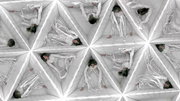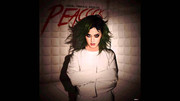 ADVERTISEMENTS
Benetton ran an ad featuring a group of people in weak-looking SJs (they look more like art smocks).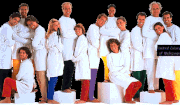 In Susan Faludi's book Backlash, she mentions an advert by Seruchi Jeans that has a woman in an SJ. Has anybody seen this?
There was an advert for the MAD TV comedy show with the cast in various Posey SJs. I've seen this in TV GUIDE and in ROLLING STONE.


DuBouchett, a manufacturer of hard liquors, ran an ad campaign for the "DuBouchett Asylum," the materials of which included a picture of a woman in an SJ and rubber skirt. This was devised by the ad agency red7e, and you can read the story of that and other "hot ad agencies" here. There is also a very small picture of the ad at BeverageNet.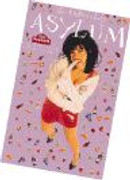 Moore Business Forms, Inc., ran an ad in 1952 depicting a hapless secretary SJed by office inefficiency.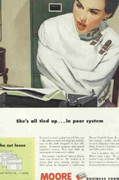 Star 94, an Atlanta radio station, showed an SJed female DJ on a billboard ad.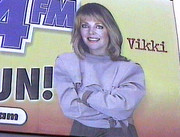 eWire has an article on Dumb Ads,which includes a small pic of a woman in a leather SJ.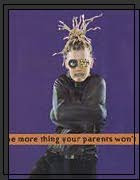 The Australian hair care company Fudge managed to get a lot of people angry when they ran the "Headcase" and "Schizophrenia" combo ads, featuring an SJed woman.
What is it with these Australians? I read that Kia Ora Phone Cards pissed people off with an ad showing a "woman chatting on the phone, when several men in white coats barged in, clothed her in a straitjacket and bundled her screaming and kicking into the back of a large white van." Apparently, she was using a rival company's service which cost more, and only a crazy person would do that . . .
A magazine advert for the reality show Bridezillas showed a woman in a magician's SJ and wedding dress, with the tag line "Engaged. Enraged. About to be committed!" There was another small pic at the Woman's Entertainment Network site.


An Australian TV ad for Pringles potato chips briefly shows an SJed woman. You can see it on YouTube.
Here's an old Virginia Slims cigarrette magazine ad with a woman SJed: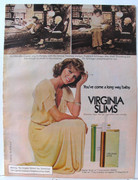 MAGAZINES
NEW! The cover of Jackson Free Press (Vol 11, No 23, Feb 13-19 2013) shows a female mannequin in a Posey straitjacket (thanks to Don).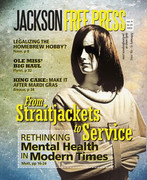 The July 1997 issue of HUSTLER contains a lesbian pictoral called "Lust Ward." It takes place in a padded cell, as the SJed women (both in Poseys) help each other out of the restraints before having fun. There are only 2 small pics of the women in SJs, and they're not on very tightly.
Issue 24 of the Gothic scene magazine PROPAGANDA contains two pictures of the lead singer of The Voluptuous Horror of Karen Black in a black leather SJ (made by Noir Leather).
The January 5, 1999 issue of The National Enquirer printed a couple of photos of the SJed Kate Winslet from a 1994 British production of "What the Butler Saw."
The December 1982 issue of the music magazine Circus showed a picture of Pat Benatar from the "Get Nervous" photo session with the caption "Perfectly wrapped." The photo shows her with her back to the camera.
The August 1999 issue of Rap Pages shows Missy Elliot in a yellow- collared Posey.
On the last page of the December 2001 issue of GQ (with Will Smith on the cover), there's a humor piece called "The 2001 Overrated List." The 13th entry is "The Newsworthiness of Mariah [Carey]'s Mental State," which is illustrated by a cute Drew Friedman drawing.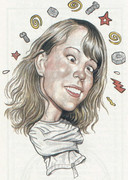 Female wrestler Mickie James appeared in the August 2006 issue of WWE Magazine wearing a magician's SJ. There are outtakes available at The New Extreme Gallery (thanks to Rusty).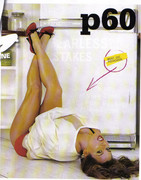 I forget what the cover date was, but I picked up an issue of True Romance a few years ago, which included a story in which a housewife in a psychiatric ward fell in love with her doctor. Here are scans from the table of contents and the first page of the story: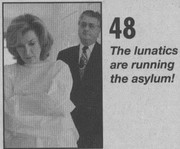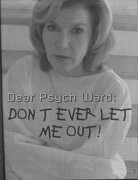 The February 1977 issue of High Society has a lesbian pictorial called "Screwballing in the Schizo Ward" with a fake SJ pic. I found the scans on the Cinema Sewer LiveJournal page.
The front cover of issue 160 (August 2004) of the Argentinian computer magazine Users showed a wide-eyed female model in a straitjacket (thanks to Mariano):


The cover of the February 2017 issue of the Lakewood/East Dallas Advocate shows a model in a Posey SJ as part of their looking back at the "crazy" year of 2016.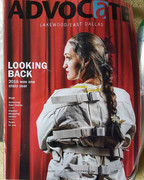 CARTOONS
The cartoon The Unicorn in the Garden (1953) was based on the classic James Thurber story. Highwing found a link for the entire cartoon on YouTube.
In the 1947 Popeye cartoon The Royal Four-Flusher, Olive Oyl ends up in an SJ. More info and caps are available at Pastor Steve's Popeye Page.
THEATER
Joe Orton's What the Butler Saw is set in a psychiatrist's office, and the climax features two women in SJs. CurtainUp.com has a review of a production featuring Chloe Sevigny in a jacket. Someone put up a brief dress rehearsal clip of another production on YouTube Here's a scan from a production in Buffalo: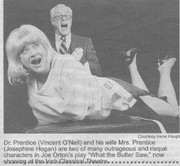 There are more pictures of various productions at Jersey Girls Sing, Sean Graney's portfolio, the British Theatre Guide, and the (Toronto) Globe and Mail. The BBC recently rebroadcast a 1987 taping of the play, which is available in its entirety on YouTube (the parts we're most concerned with are part 5 and part 6).
Don just sent me a link to the Diablo Valley College production of the play.
Pat Cook's one-act play The Whole Shebang features a woman so traumatized by an anarchic production of Hamlet that she needs to wear an SJ.
The experimental play The Watcher in the Rain by Maxwell Steer centers "on Carl Jung's treatment of James Joyce's schizophrenic daughter." Some scenes have her in a SJ.
In the recent Metropolitan Opera production of The Rake's Progress, the scene in Bedlam features the chorus singing while tied in SJs.
I have heard of a Toronto production of Schoenberg's opera Erwartung which had the female lead performing in an SJ.
A publicity photo for the 1993 production of R. Murray Schafer's Requiem for the Party Girl featured the female lead Ariadne in an SJ with loose sleeves. The Patria Design Project contains more info.
Tom Eagan's comedy And I Was King? deals with the attempts of two disinherited brothers to have their sister committed to an asylum. I have not read the play, but it sounds promising.
The Omelet Murder Case by Tim Kelley retells Hamlet as a hard-boiled detective pulp novel. One description of the play mentions that "Ophelia has traded her evening gown for a straitjacket." Again, I haven't read this play.
The Mineola Twins by Paula Vogel follows twin sisters from the 50s through the 80s as they "embody the changing roles of women." A picture on pg. 81 of the March 1, 1999 issue of Time shows Swoozie Kurtz wearing an SJ with the sleeves untied.
This description of a production of Sally Clark's play Moo! mentions that a "real" SJ was used, but not who wore it.
The Palais Garnier production of the ballet Ghiselle featured ballerinas in SJs.
The end of the play Townies by Emma Hyde and Mark Bennett shows the protagonists, a young couple, SJed in a police station.
The description of Sara Felder's play June Bride, which centers on a "traditional Jewish lesbian wedding," mentions an SJ escape, among other magic acts. Renfield found a YouTube clip of Felder SJed during the play, but without the escape. You can also see her SJed with another man.
Russell Smith and Joseph Lanstroth collaborated on an operetta based on The Unicorn in the Garden.
The performance piece Time in the Eye of the Needle contains "a woman in a straight jacket tormented by her inner turmoil."
A review of a recent production of Euripides' Andromaque contained this sentence: "There were titters and outright laughs when Marianne Basler, as the maddened Hermione, was placed in a very belle-epoque straitjacket."
A recent post to a theatre newsgroup reveals that "some genius [Anne Bogart, according to another poster] once staged Nellie Forbush singing 'I'm in love I'm in love I'm in love...' in a straitjacket."
In the Gary Socol play The Shadow of Greatness, a world-famous playright invites three fans to his apartment. He takes advantage of one fan's admiration by asking her to wear an SJ. Luther Butler's IBM Compatible is set in the "University of Louisville Teaching Hospital for the Criminally Insane," and there seems to be a lot of forcible applying of SJs going on in the play.
This review of Randall Peter Cook's Souther Discomfort mentions an SJed woman. Sounds plenty strange, though.
The Marilyn Monroe gloss All That Loving Stuff features Eva Gray in an SJ.
James Joyce Is Dead and So Is Paris: The Lucia Joyce Cabaret by Katheryn Osenlund centers on James Joyce's schizo daughter, and is sent in a mental institution. At one point, she dances while SJed.
Kiki Kendrick's one-woman play Insane Jane features her as an SJed mental patient at her biannual recommittal hearing, with the audience as the doctors' panel.
Other than this message on the Carpe Jugulum message board, I don't know much about this play Elisabeth.
Billy Collins' Boozical The Musical begins with "[a] woman in a straightjacket and face gear a la Hannibal Lector, high heels and sexy stockings beneath" singing a Madonna song.
Smoke, Mirrors & the Art of Escapology from the Talking Birds experimental theatre group deals with two escapologists; one of whom, Houdini's widow, "attempts to recreate his failed final (fictional) escape act - a straight-jacketed jump through a hole in the ice" (courtesy of the Digital Performance Archive).
One of the short plays in Joe D'Aquino's Live From New York features an SJed woman, according to the review from Talkin' Broadway.
The comedic play Shakespeare As You'd Still Like Him by Scott Grossberg features Romeo tying Juliet in an SJ and auditioning actresses for the role. A more detailed summary is found at Starlight Productions.
The Arthur Laurent/Stephen Sondheim musical Anyone Can Whistle features a scene in which escapes inmates from the local asylum are caught and SJed.
Paula Mann's Silent Second Night, inspired by the life of Houdini, features her 6-person dance company in SJs.
A Twin Cities-area produciton of Shakespeare's Troilus and Cressida featured the character of Cassandra in an SJ.
The new musical Twist features an SJed dancer in the "Ballet of the Ridiculous".
In the Stanton Wood play Nosferatu: The Morning Of My Death (adapted from the classic silent horror film), the character of Mina ends up SJed in an insane asylum due to her sleepwalking. OffOffOnline has a review with a pic of the actress in what looks like an SJ (hard to tell from the viewpoint).
In Sam Forman's "Krankenhaus Blues", a woman and two men wait for death in a Nazi-era hospital. The woman, a former actress, is intially seen in an SJ.
In the recent New York New Music Ensemble performance of Eight Songs for a Mad King by Peter Maxwell Davies, soprano Haleh Abghari was brought on stage SJed and gagged before her performance.
The play Mrs. Packard by Emily Mann is based on the real-life ordeals of Elizabeth Packard, who was committed to an insane asylum in the 1860s for being too liberal for her Calvinist husband. In an article for the Washington Post, it's revealed that in one scene, the actress playing Packard is SJed and dunked in a tub on water.
The dance performance La Vie by the Montreal-based group Les 7 Doughts de la Main featured a female contortionist escaping from an SJ.
In Matei Vi?niec's play The History of Communism (as Told for the Mentally Ill), the actors enter wearing SJs before starting the play. You can find a rather unsympathetic review at The Independent.
Arnold Schoenberg's one-act opera Erwartung ("Expectation") centers on an insane woman who kills her lover and is sent to an asylum. The actress in this performance began and ended the opera in an SJ.
The play Fallen deals with the so-called "bad girls" of the Old Testament, such as Eve, Jezebel, and Delilah. In a recent production at the University of Alaska at Anchorage, Queen Vashti was depicted as trapped in an SJ, which she escaped from. You can see a series of pictures of this play at the Anchorage Daily News.
In the play 'Dentity Crisis by Christopher Durang, Jane is trying to recover from a nervous breakdown, but her even more insane mother isn't helping much, especially as claims to have invented cheese. There's a picture of interest at the Occam's Razor Theatre Company.
The Viennese musical Elisabeth, originally produced in 1992, follows the life of Elisabeth of Bavaria, the wife of Emperor Franz Joseph I. (more info at Wikipedia) The character of Miss Windisch is tied in an SJ and led offstage during the second-act number "She Is Insane". (You can also see this video with English subtitles.) There's a video from another production with the actress Pia Douwes.
The recent Secret Theatre production of Peter Weiss' Marat/Sade showed one of the female asylum inmates in a straitjacket. You can see her in the YouTube videos Marat/Sade 1 and Marat/Sade 3.
I came across a mention of Dan Evan's play The Straitjacket, which centers on Emily Dickenson and a traveling female magician, but I don't know anything else about this.
The recent California Shakespeare Theater's production of Hamlet showed Ophelia (Zainab Jah) in a red straitjacket. Click on "Photos" to see two pictures of Jah in the jacket.
The recent Glyndebourne Opera House production of Strauss' Ariadne auf Naxos features soprano Laura Claycomb tied in a straitjacket during one of her arias. You can find a more detailed review of the production at Planet Hugill. (Thanks to Renfield)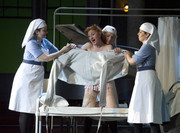 In a May 2015 production of Arnold Schoenberg's opera Erwartung by the Canadian Opera Company, featuring mezzo-soprano Krisztina Szabo as a madwoman in a straitjacket (as seen in the video in the link above). (thanks to Renfield)
In the Vienna State Opera's 2015 production of Antonin Dvorak's opera Rusalka, one of the women is seen wearing a long, quilted straitjacket with leather straps. You can see a photo on the German-language site Revier Passagen, and check out a promo video posted to Vimeo; go to 3:50 (thanks to Renfield).
A review of the Adam Overett musical Popesical! at NiteLiteExchange.com mentions one scene in which a female cardinal escapes from a straitjacket in a mental institution.
Stephen Spotswood's play The Last Burlesque features a female escape artist. The cast photo at Spotswood's web site shows actress Jenna Berk in a straitjacket. (thanks to Renfield)
Janis Astor del Valle begins her one-woman play Trans Plantations in a straitjacket, but removes it a few minutes in. During a performance, she was unable to undo a knot and remained in the jacket for an hour!
Ads for the one-woman play Call Me Crazy: Diary of a Mad Social Worker show writer-actress Helena D. Lewis in a straitjacket. I couldn't find pictures of her in performance, but this review notes that she starts the show in a straitjacket.
Henrik Ibsen's play When We Dead Awaken features a female character in a straitjacket, according to this TvTropes entry.

PINBALL MACHINES

One of the special features on the pinball game Bally's Theatre of Magic features a female assistant trying to escape from an SJ.
ARNie! tells me that Bally released a videogame version of Theatre of Magic bundled with several other pinball games as The Pinball Arcade. He purchased the version for Xbox Live and reports that the emulation is very accurate. He recently made a video of the game with the escape portion and posted it on YouTube.

VIDEO GAMES

NEW! Izanami, the final boss in the game Persona 4, is initially seen in a straitjacket and voluminous skirt.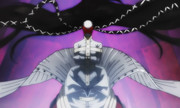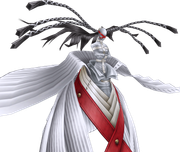 The character MDA-21 from the Japanese game Chunithm (a Guitar Hero-style rhythm game) is dressed in a navy blue straitjacket. You can see a big picture of her on Sega's Japanese site, and see a gameplay video on YouTube (thanks to Mariano).
The 1995 Japanese PC adventure game EVE Burst Error contained a scene where Marina, the female protagonist, is imprisoned topless in bondage gear. Subsequent versions of the game on other platforms toned down the deviancy a bit, having Marina tied in lingerie, and the PS2 edition (released 2003 and retitled EVE Burst Error Plus) shows her in a straitjacket. You can see the scene (starting at 3:30) on this playthrough video. (Thanks to ARNie! for the info and the vidcaps.)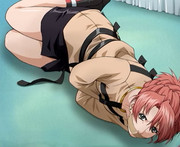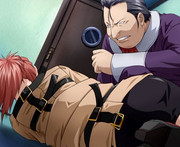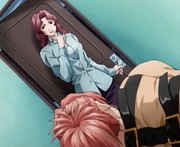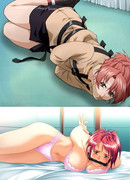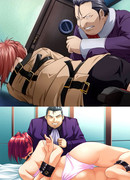 The Free Radical Design game Second Sight takes place in a "medical facility", and appears to have a sequence with a woman in a modified SJ, as a capture from Kikizo's review suggests.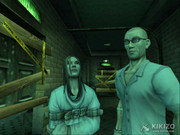 The new Fear Factor: Unleashed video game had a straitjacket escape stunt, according to the Worth Playing gaming site.
Episode 18 of the video game Sakura Taisen 3: Pari wa Moete iru ka? ("Sakura Wars 3: Is Paris Burning?") contains a scene in a prison, showing the character Lobelia, a thief with fire powers, in a straitjacket. She's untied in a show of good faith, but threatens one of the protagonist with a knife. The episode is available on YouTube; the scene starts at 4:44 (thanks to ARNie! for the info and the screencaps).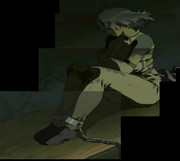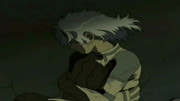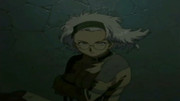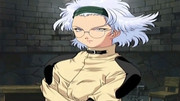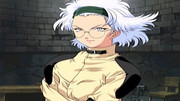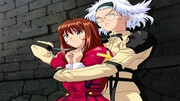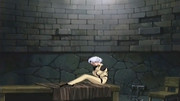 In Spiderman and Venom: Maximum Carnage, released on SNES and Sega Genesis, the villain Carnage encounters the straitjacketed Shriek while escaping from a mental hospital (thanks to T.M. for the original tip, and to ARNie! for the screencaps and additional info).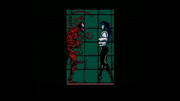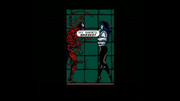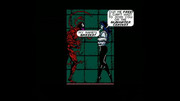 Alice: Madness Returns is the sequel to American MacGee's game Alice, and is coming out June 11 2011. ARNie! told me that the official trailer contains a couple of brief SJ pics, and made vidcaps for us as well: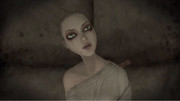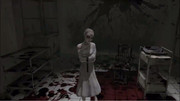 ARNie! tells me that the straitjacket scene happens in Chapter 5 of the game, as Alice finds herself reliving memories in Rutledge Asylum. There is a video of the lengthy scene on YouTube.
The Xbox Games store is selling various outfits for their players' avatars, including Hannibal Lecter's straitjacket and trolley. ARNie! sent me a pic of his female avatar in the getup: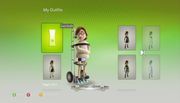 The Blackwell Epiphany is the fifth and final in the Blackwell series of point-and-click adventure games for Steam by Wadjet Eye Games. Near the end of the game, the character of Rosa winds up in a straitjacket in an asylum's padded cell, and Joey (a ghost) manages to bring a scalpel to the cell so she can cut herself free. You can see pictures of Rosa's predicament at the Let's Play archive, and watch the scenes on YouTube:
Playthrough part 9 (8:40 - 10:10, 14:35 - 15:05, 21:35 - 22:25, 28:10 - 29:55)
Playthrough part 10 (1:30 - 3:00) (thanks to Mariano)
The character of Veronica in the game Closers is seen in a straitjacket in this gameplay video (starts at 2:19; thanks to Mariano).
Phantasy Star Online 2 is a Japanese role-playing game that's unrealeased in the US. There was a contest for new costume designs, and one of the winning designs was an outfit that keeps the user's arms in a straitjacket while another set of floating arms helps the character (thanks to ARNie!).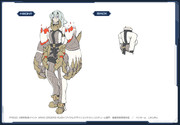 The South Korean game MapleStory is a side scrolling multiplayer game. One of the special events planned for Halloween is called "Asylum", in which the players have to roam the asylum looking for pages of a diary, and not get caught by orderlies. There are three items to get: an operating table, a "treatment chair", and a straitjacket. One players posted a screencap of her female avatar in the jacket at DeviantArt (thanks to ARNie!).

GREETING CARDS

The greeting card company California Dreamer produced several cards featuring women in SJs. One card has an attractive woman SJed (with the straps in front) with a party hat on; the caption reads "Go Crazy - It's Your 21st Birthday!"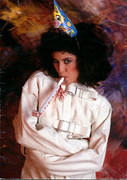 Here's another card I dug up, this one with a holiday theme: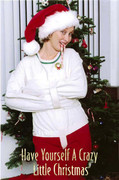 ARTWORKS
The art piece "Escape" by Barbara Barry consists of an elaborately beaded and embroidered SJ.
Ayana Friedman's "One Size Fits All" is an SJ with a lace collar.
The print "Different For Girls" by David Cutter shows an SJed women contemplating herself in a mirror. Prints were recently auctioned on eBay.
This essay on the phtographic work of Anne Arden McDonald mentions some of her self-portraits in which she is SJed Thanks to Ms. McDonald, we can see "Untitled Self Portrait #36.
The short video De-Feat is Sara Greenberger's M.F.A. thesis at the Columbia School of the Arts, and features her getting into a Posey SJ and strapping herself in.
ACTION FIGURES
The Toybiz figure Typhoid Mary from the 1998 series "The Vault" comes with a bolero-length SJ.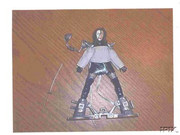 INTERNET PAY-PER-VIEWS
The main event of the women's wrestling show Shine 9 (April 19, 2013 from Ybor City, Florida) was an "Arkham Asylum Steel Cage Match", in which Leva Bates defeated Kimberly by tying her in a straitjacket. It appears that you can see the entire show for free on FloSlam, and the jacket appears at the very end of the show. I apologize for the potato-quality vidcap, but it's the best I could get: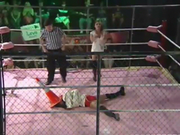 RADIO PROGRAMS (just for the sake of being ridiculously completist ;-)
Before the TV show and movie, The Avengers was a radio program. The fourth episode of "Not to Be Sneezed At" featured Miss Peel forced into an SJ. The description is very nice; too bad this was never adapted for the TV show.
COMIC BOOKS
AC Comics
UPDATE! FemForce #71 : One small pic of DarkStar in a modified (arms at sides, no external sleeves) SJ, not bad.

FemForce Out Of The Asylum #1 : GREAT full-page pic of DarkStar in a tight SJ.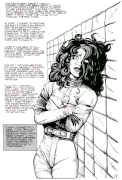 FemForce #146 features the villian The Botanist SJed in prison.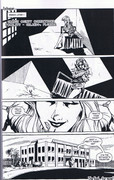 AfterShock Comics
The cover of Jimmy's Bastards #6 (January 2018) shows several people in SJs, including one woman, but there's no bondage action inside. (thanks to Creeper1574)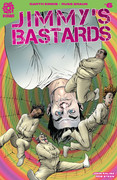 America's Comic Group (Avalon Communications, 2800 Halpern, St-Laurent, Quebec, Canada, H7R 1V4)
My Romantic Adventures? #1 is a reprint of 3 romance stories from the '50s. The cover story is a classic: "Love of a Lunatic", about a young woman who pushes away the man she loves because she thinks herself mad (her father spent years in an asylum, and her bitter, hateful mother keeps needling her about her "nervous nature"). One day she snaps, and is sent packing to the state asylum. There are two panels of her in an SJ, and a third of her in an SJ while being given hydrotherapy.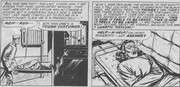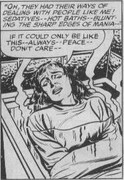 Amigo Comics
The limited-run comic StraitJacket centers on Alex Wagner, who is in a mental institution after murdering her brother so he can hunt demons, but she doesn't end up in a straitjacket until issue 4 (March 2016).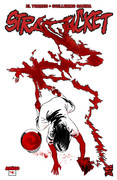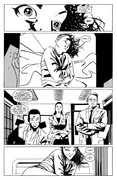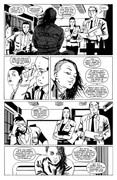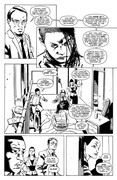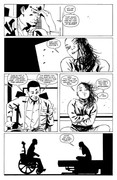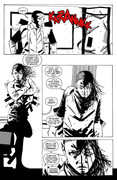 Anarchy Press
The first issue of Necromancer contains several pictures of the female protagonist in an SJ, including the cover. The entire 4-issue run is archived at the offical site (click on the publisher's name above); there are pics at pages 10-11 and 29-32.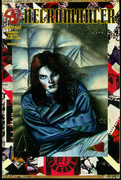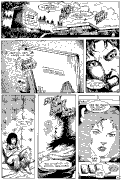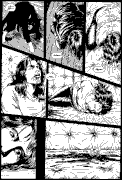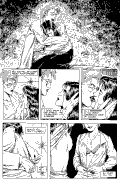 Arcana
The comic ANT centers upon of Hannah Washington, an African-American woman who copes with her brutal upbringing by escaping into a fantasy world in which she is Ant, superhero. In volume 1, issue 4 (October 2004), there's a nice two-page spread showing Hannah in a canvas SJ with leather-reinforced sleeves, with a couple more pics on the next page (thanks to Mariano). (You can read the entire issue at Read Comic Online. Go to the Image Publishing listing for another SJ pic from ANT.)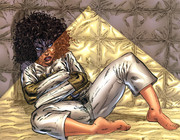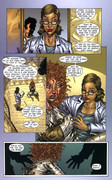 Issue 3 (December 2004) of 100 Girls has a couple of pics of a not-terribly-attractive girl in a canvas SJ. ARNie! sent me some scans: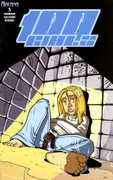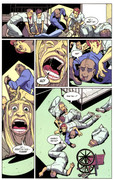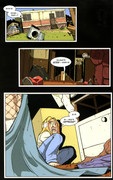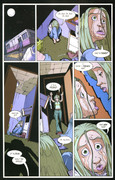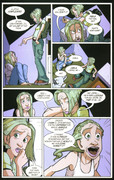 Asylum Comics
This is the comic imprint of The Asylum movie studio, which brought us Sharknado! and other quality movies. The comic 17 & Life: Jail Bait is based on the film of the same name, and follows Anna as she is sent to jail for the accidental murder of her abusive stepfather. The first issue contains a page with Anna straitjacketed and wearing a metal head cage in a padded cell. You can see the scan at Indy Planet.
Asylum Press
The first issue of Asylum of Horrors contains a pin-up of a straitjacketed girl in a padded cell (thanks to Barry):

Bluewater Comics
Issue #4 (June 2008) of the limited-run series Insane Jane ends with the protagonist SJed in a padded cell. There is also a bonus pinup of her SJed in her superheroine outfit. You can read the entire issue at Read Comic Online (thanks to Creeper1574).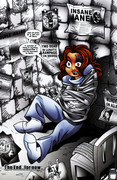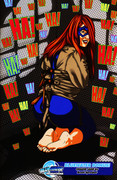 Boom! Studios
One of the covers for the first issue of The Calling: Cthulhu Chronicles (July 2010) shows the sister of the protagonist in a straitjacket. In the story, she had committed herself to a mental hospital, fearing her hallucinations will cause her to hurt herself or others. There were no other SJ pics inthe rest of the 4-issue miniseries.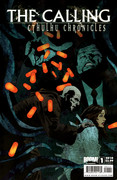 Calibre Comics
The front cover of issue #4 of Divas (January 1992) shows a woman in a straitjacket in the upper left corner. I haven't found a copy of it yet. (thanks to Creeper1574).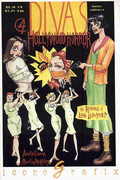 Chaos! Comics
Three pages of The Omen #4 (August 1998) shows a blonde in a straitjacket. (thanks to Kevin at Straitjacketed.com)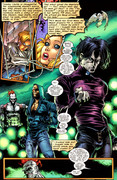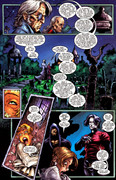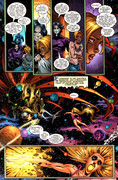 Comics House Publications
The cover for Boy Comics #24 (1945) shows a young SJed woman struggling with an attendant in a padded cell. The first story in the comic deals with a wealthy heiress who has a nervous breakdown when she discovers that her gold-digging husband never got his medical degree. She ends up in the same sanitarium that he's working at (under an assumed name), and ends up dead! You can get the entire comic from Comic Book Plus, but here are the most pertinent scans: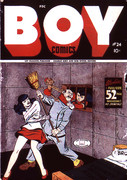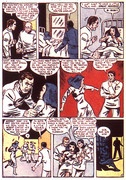 Comico
Justice Machine #27 (March 1989) This issue introdcues Ms. Liberty, an escape artist at a circus. The cover shows her triumphantly holding chains and an SJ. In the story, she poses as a civilian who is "volunteered" by a couple of circus clowns to don a SJ and be shot out of a cannon; she escapes the SJ as she flies through the air. The SJ is rather nondescript, though I liked the wrist straps.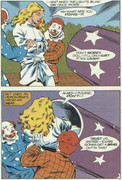 Cosmic
Issue 2 of Death Race 2000 shows an assassin zipped into a mummy-like "custody coat."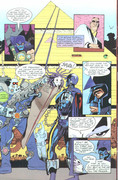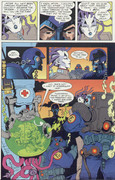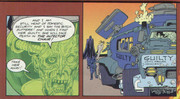 CrossGen Comics
The first issue (June 2002) of the horror series Route 666 shows an SJed blonde. I've seen the first 3 issues; there's no bondage in any of them.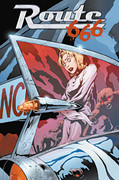 Dark Horse Comics
The graphic novel Dotter of her Father's Eyes by Mary and Bryan Talbot, compares Mary's childhood with that of Lucia Joyce, the daughter of James Joyce (Mary was the daughter of a Joycean scholar). One page shows Lucia dancing in a straitjacket.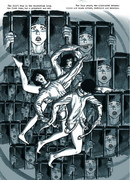 The 2016 Tomb Raider comic series continues the plot from the video game Rise of the Tomb Raider. In issue 7 (August 2016), Lara Croft sneaks into a mental hospital to help her friend Sam escape, but winds up in a straitjacket instead. There might be more pics in the next issue. (thanks to ARNie!, Lord Foot-In-Mouth and Kevin from Straitjacketed.com).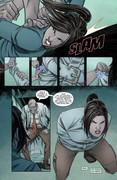 Issue 3 (July 1993) of the 4-issue miniseries The Dirty Pair : Sim Hell contains three pages of one of the title characters trapped in a simulated "comfy room!" (padded cell) with the antagonist and tied in an unusual SJ : a two-tone (black/white) jacket, with a smiley-face on the high collar, "i'm ok" written across the chest, and buckles with "OK" on top of each. (The antagonist continually mouths "touchy-feeley" psychobabble throughout this scene.) There's also a crotch panel connected to both front and back with "OK" buckles. Issue 2 has a one-page preview of this scene. The issue was later reprinted in color with a new cover.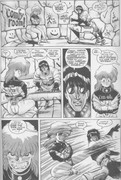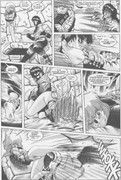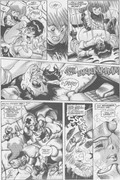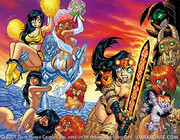 The Dark Horse site showed a preview of Buffy the Vampire Slayer #57 with a nice SJ drawing, but the issue was a total bust bondage-wise; they didn't even use the art on the cover! Issue 58 continues the "mental hospital" arc, but there's no bondage there, either. We finally hit paydirt with issue 59, with a few pages of a not-very-detailed SJ.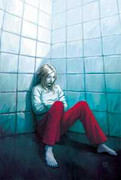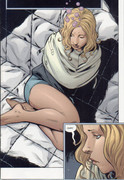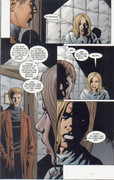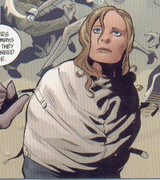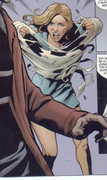 Issue #3 of the 4-part series Tales of Ordinary Madness had a small picture of an SJed woman.

Adam Warren's Empowered series of graphic novels centers upon a superheroine who has a knack for getting into embarrasing situations, including plenty of bondage. In one story of the third book of the series, Empowered gets captured by pirates working for Advanced Restraint Research and is forced to model some of their equipment, including their full-metal "Strait-Jakkit". At the end of the story, fellow superheroine Sister Spooky is also seen in the contraption. You can find scans of the comic at E-Hentai.
In issue three of Avatar: The Promise, Azula is seen in a long straitjacket, sitting in a wheelchair on the last page. Thanks to ARNie!, here's a scan: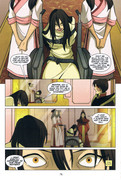 DC Comics
NEW! The final page of issue 34 (June 2019) of Batgirl shows her hanging upside down in a straitjacket (thanks to Creeper1574).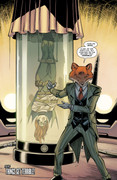 Batwoman is tied in a straitjacket on the cover of issue 30 (June 2014), but there's no bondage within.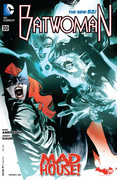 The cover of issue 33 (March 2011) of the Vertigo comic House of Mystery shows a blonde in a straitjacket, but there's no bondage within.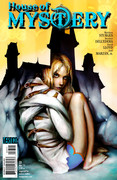 Batman Beyond #24 (November 2018) ended with a female Scarecrow unmasked and straitjacketed in Arkham Asylum (thanks to Creeper1574).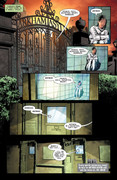 One page of Justice League Dark #3 (November 2018) shows a young Zatanna practicing her straitjacket escape (thanks to Creeper1574).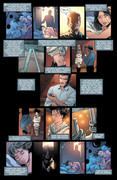 Batgirl Annual #2 (October 2018) contains one page with a woman straitjacketed in a padded cell. (thanks to Creeper1574)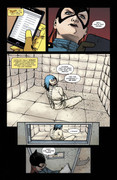 Batman #46 (Early July 2018) contains a single page with several pics of Selena Kyle in an SJ. (thanks to Creeper1574).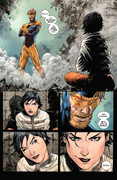 There is a very small SJ pic in The Titans : Secret Files and Origins, issue 2 (October 2000) (thanks to whomever sent me the scan):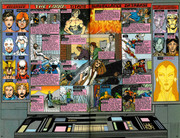 The latest issue of Scooby-Doo Team-Up (print issue #21, digital issues 41-42) has the Scooby Squad teaming with Harley Quinn to help her start a ghostbusting career, but she and the Joker wind up in straitjackets in the end. ARNie! sent me the scans: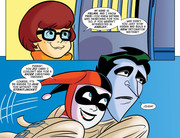 Issue #8 of Suicide Squad ("The Black Vault" part 8, onsale December 14 2016) shows Killer Frost arriving to Belle Reve Penitentiary in an orange straitjacket with straps all over. (thanks to Creeper1574)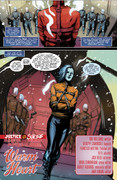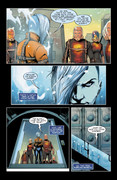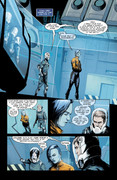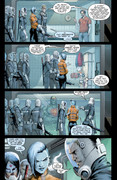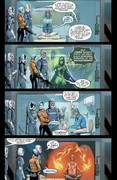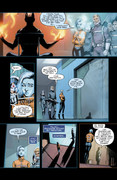 The cover of Wonder Woman #15 (released January 25 2017) shows Diana Price SJed in a padded cell. Unfortunately, there's no bondage inside. (thanks to ARNie!, Brian, Creeper1574, and Kevin).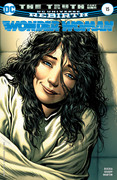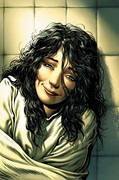 Issue 9 (December 2016) of Batman ends with Selina Kyle in prison, supoosedly straitjacketed (it doesn't look that great) and wearing a wicked facemask. (thanks to Creeper1574).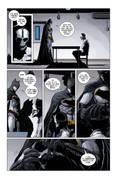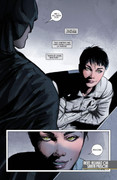 In the new Vertigo series Red Thorn, there's one pic at the end of issue 6 (April 2016), one at the end of issue 8 (June 2016), and several in issue 9 (July 2016), including the cover. (thanks to whoever told me about this, I'm afraid I forgot who).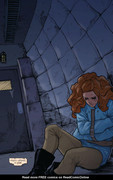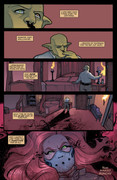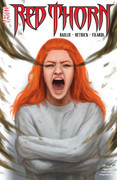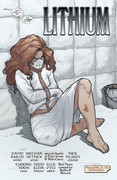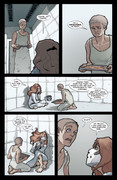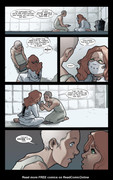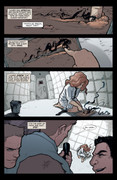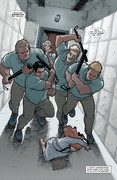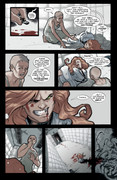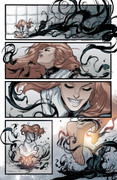 Legionairres #37 had a woman restrained in an unusual-looking SJ: a behind-the-back model (with a loop in the small of the back for her arms to fit thru), fastening in front.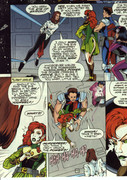 There was a Christmas comic of Batman Adventures where Harley Quinn is seen at the end in an SJ from an odd and unsatisfactory angle.
There are a couple of pics of an SJed woman in New Titans issue 105 (Late December 1993). I earlier reported in this space that the superheroine Koraind'r (aka Starfire) ends up SJed in an issue; I believe I'm mistaken on that count (though I'd be more than happy to be proven wrong).
The splash page for The Flash #330 has an extremely nice picture of a redhead SJed and tied to a bed in a small padded cell; there are several more pics spread over the next few pages. Here's some scans from Michael F.: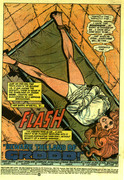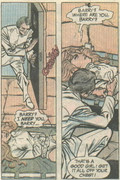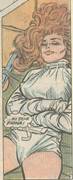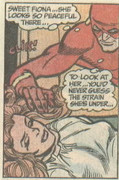 The final page of the story in X-Force #44 has the heroine Siryn (named so for her piercing scream) SJed and gagged (with what looks like a polka-dotted surgical mask) and carted off to a mental hospital. There is only one medium-sized pic, and it's not very good.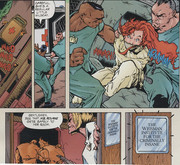 Catwoman #60 contains the last part of a three-part story, in which the title character deliberately ODs on Scarecrow's fear serum. The first several pages has Catwoman tied in a nice behind-the-back SJ; the sleeves are attached to straps criss-crossing in front and sewn to the shoulders. There are also two waist straps and two crotch straps. In all, an excellent deal.
The cover of Justice League of America #81 (1970) has nothing to do with the story inside, but shows several second-tier heroes, including Black Canary, SJed in a jail cell, as Superman explains "I had to do this -- they've gone INSANE!!"
Wonder Woman #305 and #306 (volume 42, July/August 1983) contains a 2-part side story called "Straitjacket!"/"It's...Madness!" featuring the Huntress. As the story begins, she's being carted off to the Arkham Sanitorium by Dr. Tarr and Professor Fether (I know, I know...). She's tied in a white SJ, arms behind back, and dosed with a hallucinogen just before the inmates in the violent ward break out. She knocks a few out (they're mostly after the two doctors) before one of the inmates unties her (Tarr and Fether are paid by the mob to kidnap people). The artwork is no better than exceptable, and there is little detail on the SJ, but you can see scans at The Distressed Crimefighteress Page.
Issue 33 (August 1989) of the "modern age" Wonder Woman (August 1989) features some panels with the Cheeta in an SJ; there is a detailed synopsis at the Amazon Archives.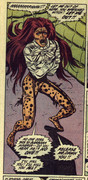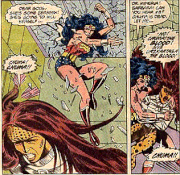 Issue 26 (1989) of Doom Patrol has several pics of an SJed Miss Quiz. Readers interested in the storyline can check this fan page.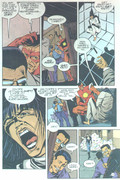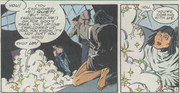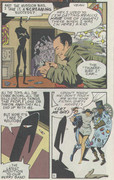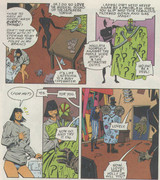 The second issue of the six-issue miniseries Rose and Thorn featured the title character (a victim of multiple personality disorder) in a mental facility, placed in "full body compliance restraint" (SJ, blanket, and thick leather straps) after gruesomely assaulting another patient. We don't see the SJ, but the straps are nice, and the cover shows her in a sort of SJ-style restraint. The cover shows her in a kind of SJ (no arm sleeves are shown).
Zatanna is seen in SJs in the first two issues (May and June 2007) of the JLA miniseries Black Baptism. ARNie! sent me these scans: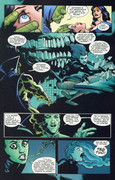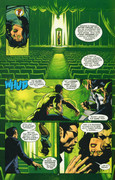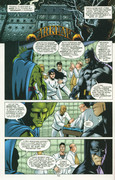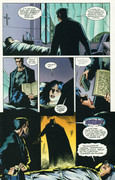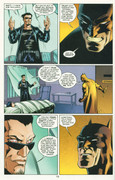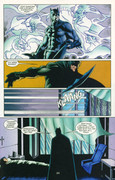 ARNie! sent me this scan from an unknown issue of Teen Titans: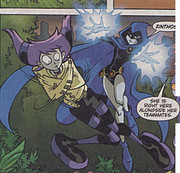 In Batman #680, containing part 5 of "Batman R.I.P.", the Joker is keeping Batman's current girlfriend SJed in a padded cell. She's also seen ballgagged and tied to a wheelchair on one page. Here are some scans, courtesy of ARNie!: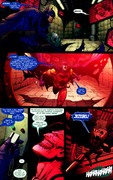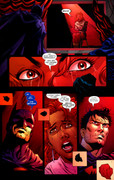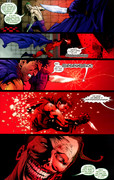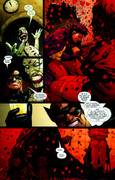 At the end of issue 43 (May 2008) of The Batman Strikes, Harley Quinn is seen SJed in Arkham Aslyum: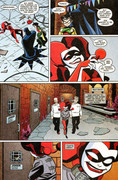 In issue 15 (2005) of Teen Titans Go!, the Kwiz Kid is tired of his girlfriend Kitten's crush on Robin, so he challenges the Boy Wonder to follow his clues to his secret hideout, where he has Kitten SJed and chained upside down: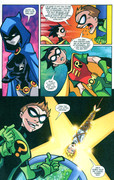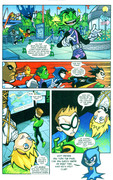 In issue 69 (March 2005) of JSA, Stargirl sneaks into a mental hospital to visit the original Starman, but gets caught, sedated, and straitjacketed. She's still in the jacket in issue 70, but is freed by an unknown ally (thanks to ARNie! for the scans) :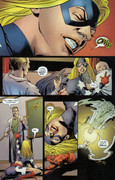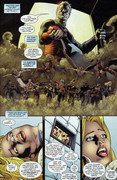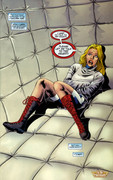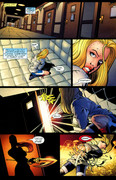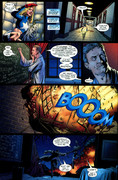 The final page of issue 54 (April 2003) of Young Justice shows Robin talking to a straitjacketed Ellen Hayes, the mother of the heroine Secret, in a padded cell:


In the one-shot Joker's Asylum II : Harley Quinn (June 2010), the titular character escapes Arkham Asylum on Valentine's Day, to throw herself into the arms of her "little puddin'", of course. The final page shows the star-crossed lovers back in the asylum, to no one's surprise: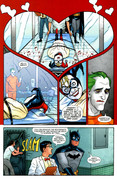 In issue 4 of Zatanna (October 2010), there's a picture of the titular character practicing an upside-down SJ escape wearing what appears to be a black PVC or latex jacket: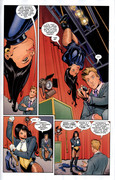 One of the stories in issue 36 of Superman's Girfriend Lois Lane (1962) has Lois turning into a "Mrs. Hyde" after getting blasted with some radiation filtered through a hunk of red kyptonite. She causes so much havoc that she's eventually tied in a straitjacket as Lois, though she easily tears it up when she turns monstrous again.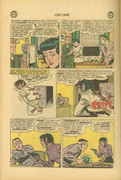 There are two pages in Batgirl #13 (2012) showing the bald villian Gretel in a straitjacket with front loop. Here are scans of both pages (thanks to Creeper for the tip):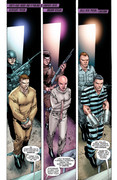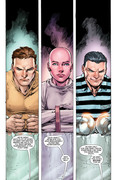 In issue 15 of Suicide Squad (cover date Feb 2013; released Dec 2012), the Joker puts Harley Quinn in a straitjacket before trying to kill her. Ah, true love . . . Thanks to ARNie!, I have 2 scans: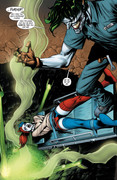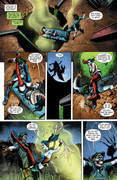 In Catwoman #19 (June 2013), the title character is sent undercover into Arkham Asylum as an inmate, and is seen in a straitjacket for most of the issue: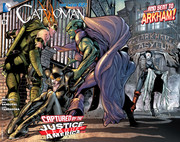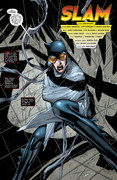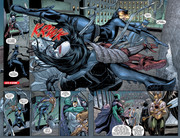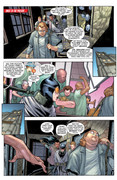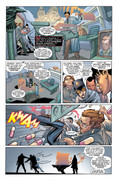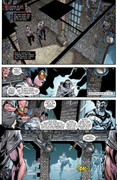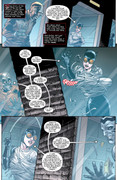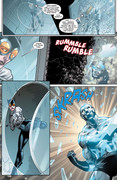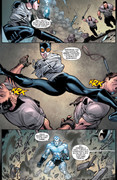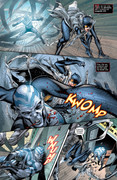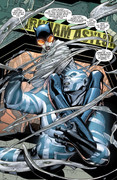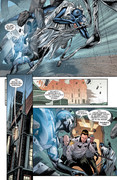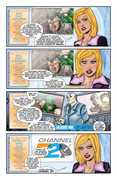 On an alternate cover of Harley Quinn #1 (Feb 2014), our favorite psychologist is SJed in a padded cell, but there aren't any more pics inside. You can see the first several pages at Comic Book Resources.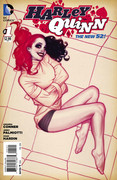 On one page of Trinity of Sin: Pandora: Future's End #1 (November 2014), Lust is seen in an untied SJ. Here's a pic (thanks to Creeper for the tip!):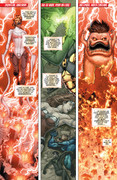 Jean Loring was an attorney and the ex-wife of superhero The Atom. In an effort to reconcile with him, Jean used his shrinking ray to climb inside the brain of Sue Dibny (wife of the Elongated Man) and give her a mini-stroke. However, Sue died, and a horrified Atom committed Jean to Arkham Asylum. ARNie! sent me a scan from one of the comic books (I don't know which one; this happened during the Identity Crisis arc), but I can't find any other pics of her SJed: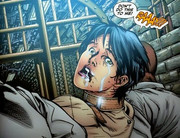 Two pages of New Teen Titans, volume 3, #21 (cover date July 1980) featured a woman in an SJ (thanks to Kevin at Straitjacketed.com).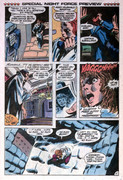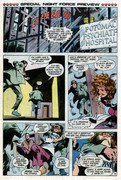 The digital-comic series Wonder Woman '77 follows the continuity of the Lynda Carter tv series. Issue 9 (September 2015) shows the Cheetah stripped of her powers and wearing a straitjacket in a padded cell.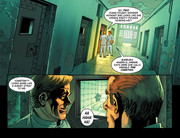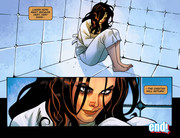 Issue 24 (March 16 2016) of the weekly Batman and Robin Eternal shows Cassandra suspended in a straitjacket. The scene is likely to continue in the next issue (thanks to Creeper1574).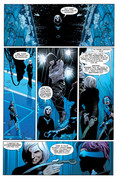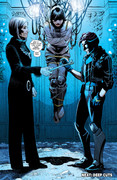 The above scene continued in issue 25 (March 23 2016):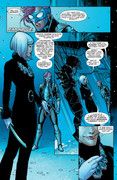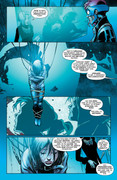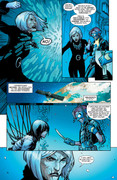 And the scene finally ended in issue 26 (March 30 2016):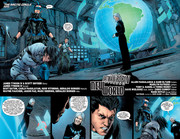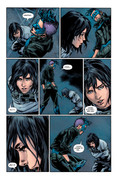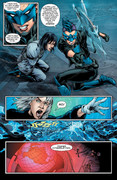 In the one-shot Harley Quinn and the Suicide Squad April Fool's Special (April 2016), Quinn is captured by the Justice League and Green Lantern uses his ring to conjure a straitjacket for her. We then see that she's being forced to relive this memory while trussed up Clockwork Orange-style to see if she still wants to be a part of the Suicide Squad (thanks to Creeper1573 and ARNie!):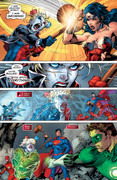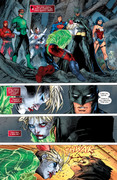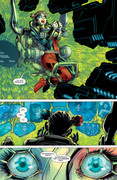 Issue 24 (August 2011) of Gotham City Sirens contains a small pic of Harley Quinn in straitjacket and muzzle after a failed takeover of Arkham Asylum: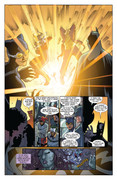 In issue 15 (March 1943) of Sensation Comics, Wonder Woman is kidnapped by Nazis and tied in a full-body straitjacket, which she (sadly) rips open with ease.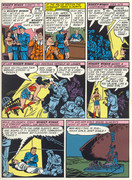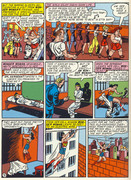 In the collection Wonder Woman Archives, Volume 3, one of the stories featured the heroine (as Diana Prince) getting laced into a full-body straitjacket, which she easily tears up.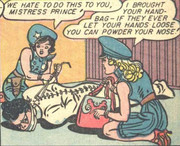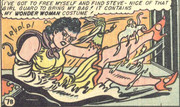 In issue 28 (April 2014) of Green Lantern/Red Lantern (a special "flipbook" double-issue), Green Lantern uses his powers to trap a female villain in a modified straitjacket.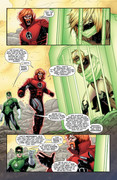 In Batman: Gotham Knights #38 (April 2003), the Huntress has been kidnapped by the covert agency Checkmark, to try to enlist her in their fight against Batman. She's seen in a straitjacket in a few panels, manages to escape still wearing it, and is still wearing it in issue #39.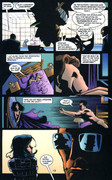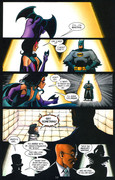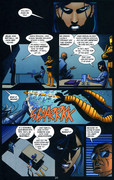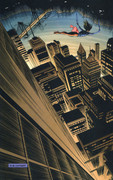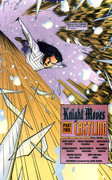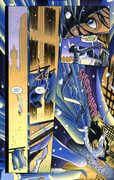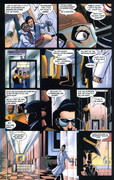 Devil's Due Entertainment
Issue 2 (July 2007) of Sheena, Queen of the Jungle showed the titular character in a straitjacket in a hospital room; she eventually escaped from both. She's seen in the jacket for several pages. The issue is available digitally for the Nook, and ARNie! sent me a scan of the first pic:

Dynamite Entertainment
One of the variant covers of the first issue of the 5-issue miniseries Battlestar Galactica : Six (based on Tricia Helfer's character) shows Six in a nicely detailed straitjacket. You can see the cover and some interior pages at Comic Vine.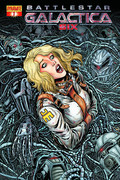 The cover of issue 22 (July 2009) of Army of Darkness shows an SJed woman, but there's no bondage within.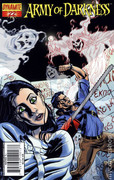 Eros Comix
Sweeter Gwen #1: Comic book by Eric Stanton. The title character is kidnapped by some unscrupulous characters, wanting a treasure map they think she has. Some good drawings of her in a tight SJ.
Franco Saudelli's The Blonde: "Double Cross" #3 and "Phoebus III" #1 both have several good SJ pics, and the very last panel of "Bondage Palace" #5 has an OK SJ pic.
Issue 7 of Sabina, Mistress of Escapes contains several pages of the titular character being tied into and escaping from an open-breasted SJ.
The cover of the sixth issue of the Japanese comic Voice of Submission features an open-breasted SJ. ARNie, who sent the pic, tells me that the issue itself doesn't feature the SJ, but it might have been seen earlier in the comic's run.
The cover of Housewives At Play #5 shows a woman in an open-breasted SJ, but there's no bondage inside, or in #4 either. There is a King-Sized Special issue which reportedly features SJ pics as well, according to the description at Overseas Comics. The entirety of Issue 5 is available at ImageFap.
Fawcett Comics
Issue 2 (June 1946) of Mary Marvel contains the story "The Magic Yarn", in which Mary battles the devious Georgia Sivana, who uses magic yarn from Venus to knit Mary a sweater with added hood, which muzzles her and prevents her from moving her arms. Not quite a straitjacket, but close enough for me . . .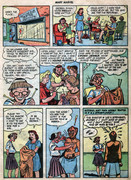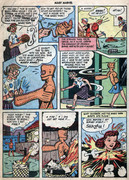 In issue 8 (December 1946) of Mary Marvel, Mary and her fellow heroine Bulletgirl are tricked by the dastardly Dr. Riddle into a trap at an abandoned asylum. Mary is bound with rope and Bulletgirl is laced into a straitjacket. They are both gagged and thrown into a padded cell to suffocate. Luckily, Bulletgirl pulls Mary's gag off so she can yell "SHAZAM!" and break free.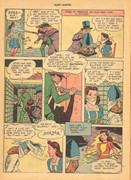 Fleetway/Egmont
There are some SJ scans from the sci-fi weekly comic 2000 A.D. (best known as the source of "Judge Dredd") at Grimbor's site. He also uploaded more scans dealing with Candida de Torquemada.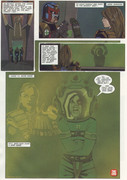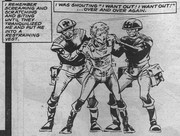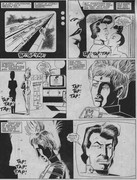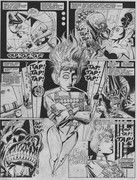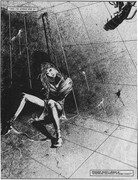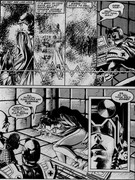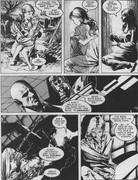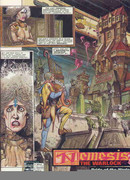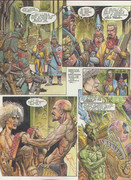 Hit Shuppansha
The August 2011 issue of the manga Comic Aun contains the story "Escape Artist" by Inoue Yoshihisa, in which Princess Mako attempts an upside-down SJ escape, with the last-minute addition of a vibrator! You can obtain the untranslated scans at Upload Station (thanks to ARNie! and Van):
Part One
Part Two

IDW Publishing
Issue 23 of Angel : Aftermath ended with a picture of the character Non, stripped of her powers and tied in a straitjacket: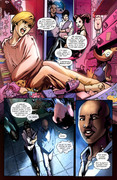 Issue 24 of the same comic was published with two variant covers, showing the character Druscilla in an SJ. You can see previews at Whedon.info.
The cover of issue 6 (December 2014) of Borderlands : Tannis and the Vault shows Tannis in an SJ, though there are no bondage pics inside.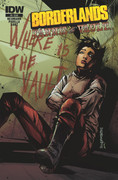 Image Publishing
NEW! One of the alternate covers for issue 3 (July 2017) of the miniseries Regression shows a woman leaning against a padded wall in a straitjacket.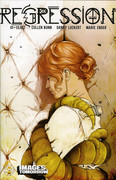 Volume 2, number 7 (June 2006) of Ant shows the title character in a straitjacket on one page. You can read the issue at Read Comic Online (thanks to Creeper1574). (Go to the Arcana listing for more SJ pics from ANT.)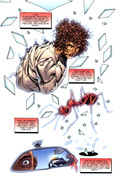 The first two issues of Ragmop have "comic strip"-type drawings of a woman in an SJ (with front-buckling crotch strap); issue #2 has her on the cover.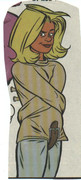 One of the protagonists in the series Ship of Fools is Atalanta, who is dressed in an untied SJ and never goes anywhere without her trusty chainsaw. Mariano was kind enough to send me the following scans: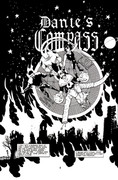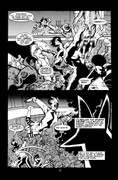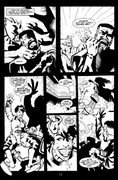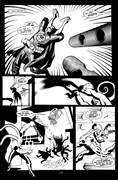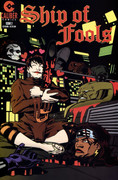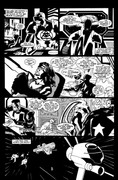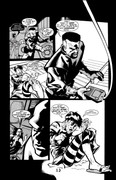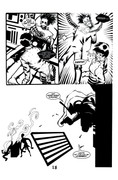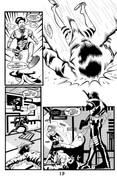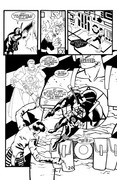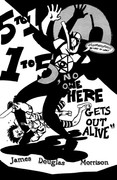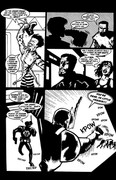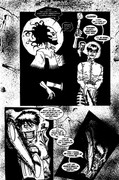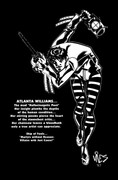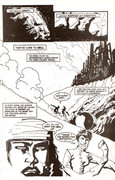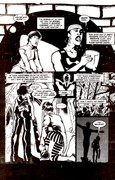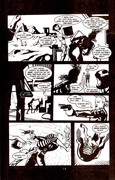 The first issue (published Dec. 2001) of the 6-issue miniseries Radix features an SJ panel. The second issue has a few more pics, and issue 3 has one final pic before she's rescued. You can find more info about the comic at Horizon Comics.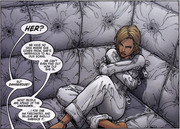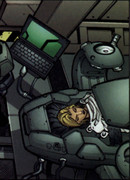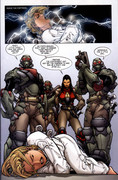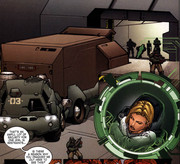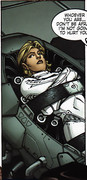 IDW Publishing
I've been told that the first issue of the 5-issue miniseries Spike: Asylum (based on the anti-hero from Buffy the Vampire Slayer) contains some female SJ pics.
Innovation Publishing (3622 Jacob St., Wheeling WV 26003)
ssue 2 of the Child's Play series had some OK SJ drawings.
Kadokawa BookWalker
Volume 10 of the manga Ga-Rei (full title: The Enchained Spritual Beast Ga-Rei) shows Yomi Isayama straitjacketed within a cage inside a "sealing room".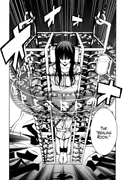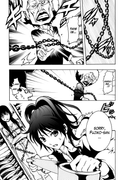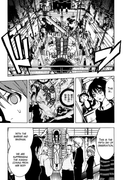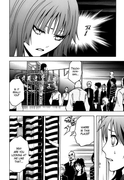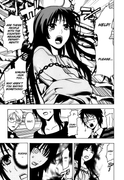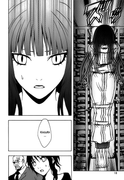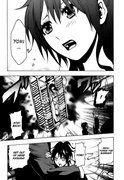 Kitchen Sink Comix
Issue 2 of the women-cartoonist compilation Twisted Sisters has a cover depicting a fashion show, where the runway models are wearing SJs over their couture. The art is rather angular.
UPDATE! In issue 9 (Decemnber 1999) of the miniseries Heart of Empire, the character Diana is seen in an SJ (thanks to Mariano).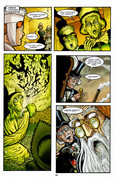 Last Gasp of San Francisco
The graphic novel Nympho's Revenge by Bernard Joubert and Studio Benedetti contains two pages showing a straitjacketed woman in a mental hospital. You can see the scans at E-Hentai (pages 19 and 20). The novel was originally published in the French magazine "BD Adult".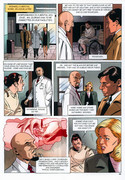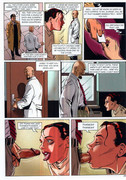 London Night Studios
Ultimate Strike #1 has three pages of the title character in a nicely detailed SJ and leg restraints (scans courtesy of Michael F.):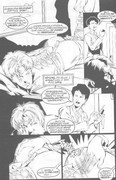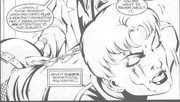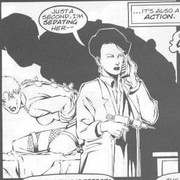 Razor: Cry No More is a one-shot detailing the origin of Razor. As a young girl, she is sent to an institution in a catatonic state, after witnessing the violent deaths of her parents. There is one nice full-page pic of her in an SJ. A limited-edition alternate version of the comic has a front cover of Razor in an SJ. There's also another SJ cover painting which was created for the 20th anniversary reprint.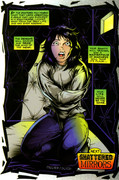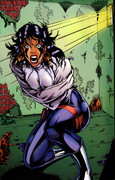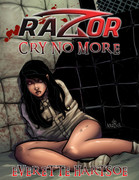 Razor Vol.2 #1 is an "all-ages" version of this; with a smaller pic of the young Razor in an SJ, and another one on the back cover.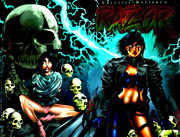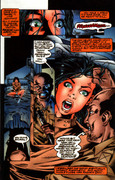 Everette Hartsoe, the creator of Razor, is bringing the character back in a Kickstarter-funded graphic novel, Razor: Scars. You can follow the progrss on Hartsoe's Patreon page. (thanks to ARNie!)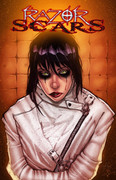 Marvel Comics
NEW! Issue 3 (2019) of Prisoner X shows a female mutant struggling in a straitjacket (thanks to Creeper1574).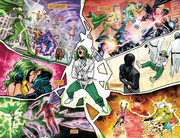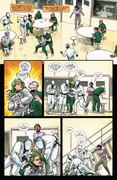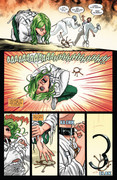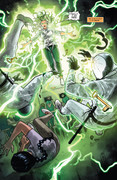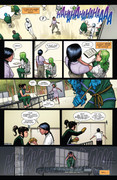 The one-shot comic Typhoid Fever Spider-Man (2018) contains several pages of Typhoid Mary in a straitjacket. (thanks to Creeper1574)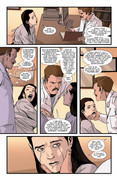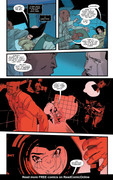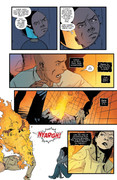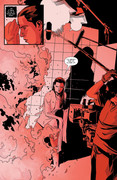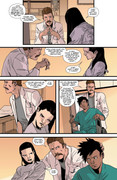 An anonymous friend sent me this picture of a jacketed Typhoid Mary in a padded cell, but doesn't know which comic it came from.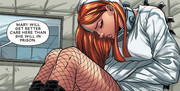 At the end of Daredevil issue 297 (October 1991), Daredevil tricks the villain Typhoid Mary into reverting to her regular Mary persona, and then has her involuntarily committed. There are two pages with obstructed pics of her in the jacket.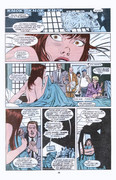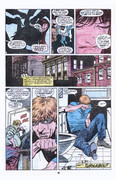 There is a small pic of the Scarlet Witch in a straitjacket in issue 1 (January 2018) of Marvel's Avengers: Infinity War Prelude (thanks to Renfield).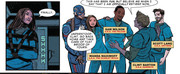 In issue #1 (published April 2013) of Thanos Rising, Thanos visits his mother, who is straitjacketed in a padded cell.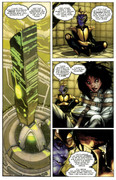 Issue 27 of Generation X has Jubilee tied in a SJ-suit (green with yellow straps and elbow/knee pads) for several panels. A later issue also has pics of her in this predicament, but the art in that issue makes her look 3 years old.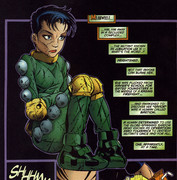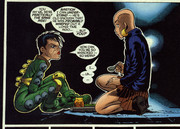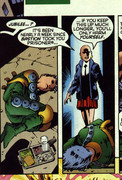 A Wolverine one-shot, Rahne of Terra, has several pictures of the titular character, a not-strikingly-attractive woman with a red buzzcut, in an SJ. So-so. (thanks to Mariano)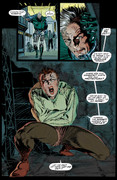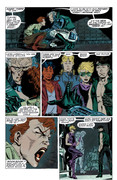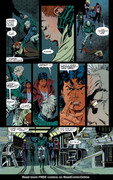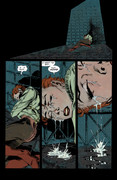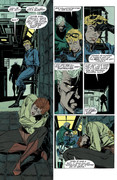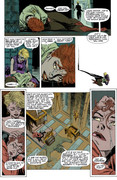 Amazing Adventures #8 (Sept. 1971) : The Black Widow is tied in a sort of pinstriped SJ by her nemesis, who magically fashioned it out of plywood boards, for a couple of panels.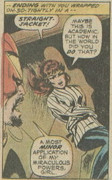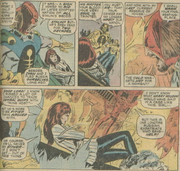 In Ka-Zar The Savage #22 (c. 1984), Shanna the She-Devil, distraught over her husband's (the title character) apparent death, goes berserk after learning that the woman she believes killed Ka-Zar also killed their beloved sabre-toothed tiger. She winds up SJed in Bellvue, but Spiderman breaks her out.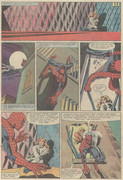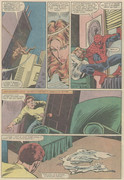 There is a blonde in a nice SJ on the cover of DareDevil issue 277 (February 1990); there is no SJ bondage within, but there are scenes where the woman imagines herself tied up and chained to a chair.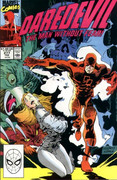 In Spiderman Unlimited #1, Shriek is seen in an SJ for one-third of a page (and is later freed by Carnage in this first issue of the "Maximum Carnage" saga); not bad, but don't pay too much.
The cover of Sensational She-Hulk #20 shows the title character in a "modified SJ" (looks more like a partial mummy-wrap to me) in "Dorkham Asylum." She's seen in a similar position inside the comic; you can read it at Read Comic Online.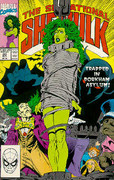 The first issue of the 1986 miniseries Elektra : Assassin involves the heroine's stay in an asylum. There is only one SJ pic.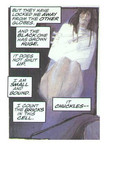 Elektra #12 (September 2002) has an excellent cover pic and the story shows the title character SJed and in heavy ankle shackles for almost the entire issue. You can read the entire issue at Read Comic Online.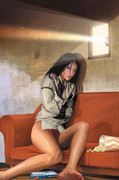 The first issue of the Typhoid Mary miniseries (a DareDevil offshoot) had the title villain in an SJ. I'm not sure, but I think these scans from ARNie! are from this comic: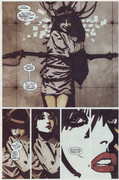 According to The Crimson's Cowl, Marianne Rodgers ended up in an SJ in at least one issue of Iron Man.
Spider-Girl #41 (February 2002) contains some SJ pics, as revealed by Spiderfan.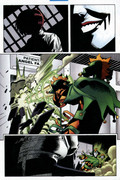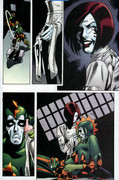 In Amazing Spider-Man issue 226 (March 1982), the Black Cat fools Spidey into thinking she's insane, so he has her sent to a mental hospital, which is much easier to escape from than a prison. She manhandles a nurse into an SJ before she leaves: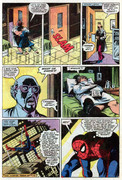 The husband-and-wife Avengers offshoots Vision and Scarlet Witch had two limited-run series apart from the main Avenegers comics, in 1982-1983 and 1985-1986. In Volume 2, Issue 9 (June 1986), there is a brief scene of their friends Glamor and Illusion performing an underwater SJ escape (thanks to ARNie! for the scan):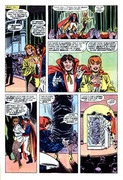 Issue 14 of X-Men (street date July 6 2011) features an excellent cover of Emma Frost naked in a straitjacket, and several lesser pictures within. Thanks to ARNie!, here are the scans: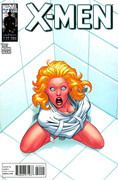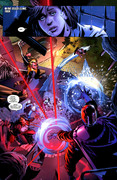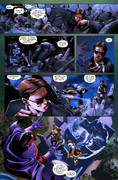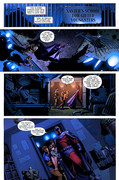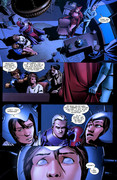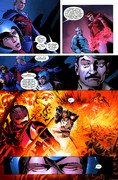 The first several pages of issue 8 (2012) of Fear Itself: The Fearless features the villainess Sin (daughter of the Red Skull and unfortunately in possession of a grotesque red skull for a head) riding in a plane whilst trussed up like Hannibal Lecter. Thanks to ARNie! and Creeper1574 for the scans: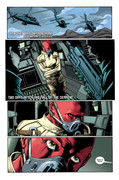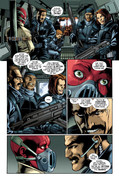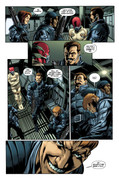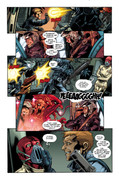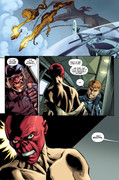 Issue 18 (September 2012) of the new Daredevil comic ends with a full-page shot of a straitjacketed women (jacket has leather front arm loop and waist belt) sitting in a padded cell.


In issue 2 (November 2010) of Deadpool MAX, Deadpool is in a mental institution and discovers that his female psychiatrist is actually a patient herself. She's led out in a straitjacket at the end of the comic.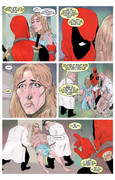 Renegade Comics
Ms. Tree #27 (March 1985) : "Pronounced Normal" Ms. Tree goes undercover at a private mental hospital to investigate a patient claims that a popular politician murdered a young woman. Two of the politicians' henchmen SJ and gag Tree for a few panels. The pics aren't bad; she's seen escaping from the jacket. The front cover has a very nice picture of her as well.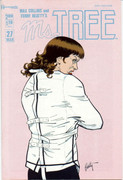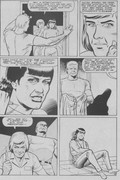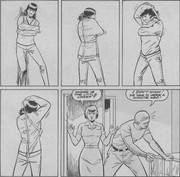 Rip-Off Press (Box 4686, Auburn CA 95604) (catalog $1)
Magical Nymphini #5 has a blonde in an SJ on the cover; no B&D inside, though. This comic is also available through Eros Comix.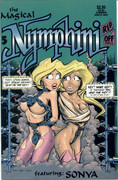 Ross Cochran, Publisher (Box 469, West Plains MO 65775)
Issue 2 of the reprinted Tales from the Crypt contains "Mute Witness to Murder" (see the television page ), which has some very good SJ drawings.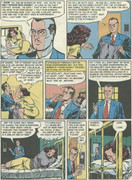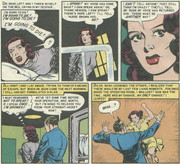 Issue 6 of Crime SuspenStories included "Out Of My Mind!", a story about a woman who murders her rich husband and convinces his psychiatrist brother that she's insane. It has a very good SJ pic.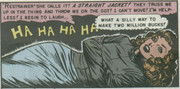 Ruvanti
I believe this is the name of the publisher of the strange Belgian comic Die Slaapkamerfilosofen, which seems to be about a young woman inmate of a mental hospital staffed by ugly, misshapen monsters. According to P. A., who provided the pics, the storyline expounds a Sadean, anti-church philosophy. If anyone has more info on how to acquire this, please contact me.

Sirius Comics
Issue 12 of Dogwitch features the main character Violet (an outcast witch) SJed in a padded cell in a flashback. The issue dealt with her accidental murder of her sister. Issue 16 contains some more flashbacks, including an electroshock scene.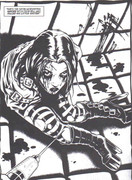 Takeshobo
NEW! One page in Chapter 4 of Getter Robo High shows a woman in an SJ.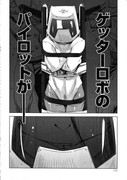 Unknown
UPDATE! For the longest time, I didn't know the source of these pics, but Mariano tells me that they're from issue 46 of the Italian fumetti Alan Ford.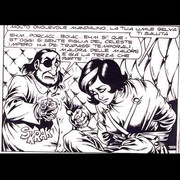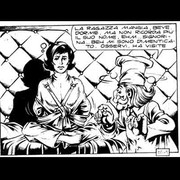 The cover of issue 425 of Relatos de Presidio shows a woman in an SJ, but I've been unable to find the comic to see if there's any SJ pics inside.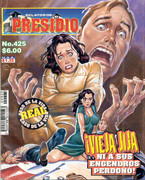 The cover of the Mexican comic Almas Perversas #367 (February 13 2004) shows a brutish nurse tying a blonde in a straitjacket. There are several more SJ pics inside (by a different artist).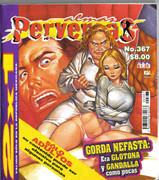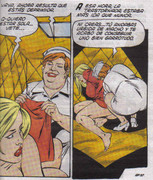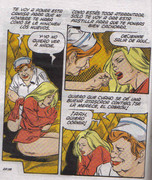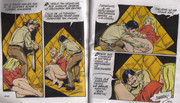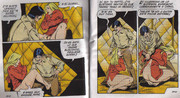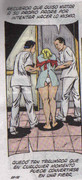 An Italian comic called Erinni showed a black woman SJed in a padded cell.
Several pages from volume 4 of the manga Death Note showed a female character SJed, strapped to a stretcher and blindfolded. (scans taken from the Zwangjacken Yahoo! group; thanks to "eggsnhamrgreen"!)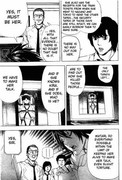 French artist Georges Pichard illustrated a series of graphic novels about the sexual adventures of a carefree woman, Paulette. In the third volume, Paulette loses a massive amount of money at the casino, and a group of men decide to have her committed for some reason (I don't know French, and the Babelfish translation was too vague). Two orderlies tie her in a white sack with her arms behind her and cart her off. There's also an electroshock scene before she escapes. The scans are available at E-Hentai.
Pichard also put a couple of SJ pics in the story Madoline 2: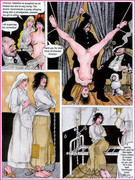 The cover of issue 3 (2007) of the Danish comic Agent X-9 features Modesty Blaise attempting an underwater straitjacket escape. The issue reprints the Modesty Blaise daily newspaper strip story "Idaho George." Modesty is captured by the bad guys, put in a straitjacket and beaten. She fakes her death, and the bad guys tie an anchor to her ankles and throw her off a boat. She escapes from her binds and swims back to the surface.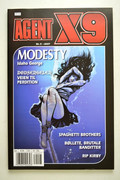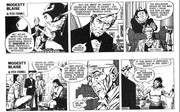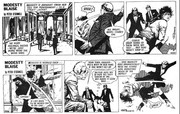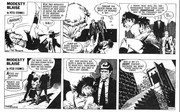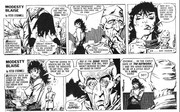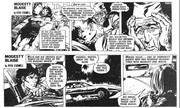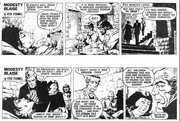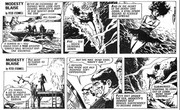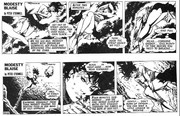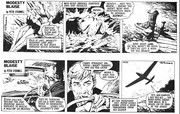 Volume 15 of the manga Detective Academy Q features a woman in a tight straitjacket. You can find links at the Western Civilization board (thanks to Kevin at Straitjacketed.com for all the West Civ listings).
Volume 7 of the manga Kizuoibito shows a woman wearing a straitjacket and an over-the-mouth gag. Scans are available at Western Civilization.
Volume 13 of the manga Umedamangashuu contains one page of a girl wearing a straitjacket with front straps and 2 crotch straps. The scan is on Western Civilization.
Volume 7 of the manga Mad Bull 34 contains a rather kinky scene in which a policewoman is kidnapped, stripped topless, and placed in a straitjacket. Her captors rip the jacket open, exposing her breasts while keeping her arms trapped, before her rescue. You can see the scans at Western Civilization.
NEW! Volume 3 of the manga 3x3 Eyes shows a three-eyed woman in an ornate straitjacket. The pics are available on Western Civilization (thanks to Creeper1574).
NEW! Volume 2 of the manga Grisaia - Phantom Trigger shows a woman SJed and lying on the floor of a police interrogation room. You can see the scans at Western Civilization (thanks to Creepoer1574).

Verotik Publishing
Sunglasses After Dark #1: In this comic series based on Nancy Collin's novel, the female vampire protagonist is hauled into a private mental hospital in an SJ (straps in front). Unfortunately, the art is very angular and abstract; YMMV.

Viz Media
NEW! One page in Chapter 30 of Platinum End shows a blindfolded woman in a knee-length SJ.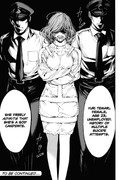 Wrought Comics
Issue one of Asylum shows redhead Evie waking up in a straitjacket and wandering a crumbling wasteland. A terrified boy comes along and releases her arm straps. You can see the first few pages at Indy Planet.
Zenescope Entertainment
NEW! In issue 3 of the miniseries Robyn Hood : The Hunt, villainess Selina is seen SJed on one page.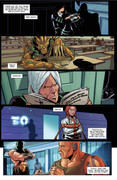 NEW! One of the continuing stories in Tales From Wonderland, "The Arrangement", contains several pages of a woman straitjacketed in an asylum cell. I don't know which issue the story appears in, but the entire story is collected in the second trade paperback.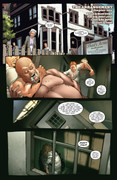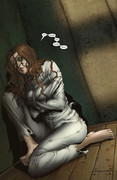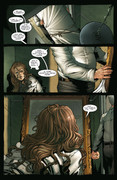 Issue two of the 5-issue miniseries Wonderland : Asylum ends with Violet in a white straitjacket with red trimming, and issue 3 begins with her being released from a red-and-black jacket by some friendly birds. You can find the first four pages of issue 3 at the Zenescope blog, and find the pic from issue 2 below: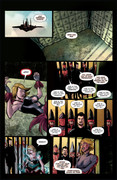 One of the alternate covers for issue 2 (June 2013) of the limited-run series Grimm Fairy Tales Presents Wonderland : Down the Rabbit Hole shows Alice kneeling in a padded cell while wearing an elaborate straitjacket obviously modeled on Max Cita's Psycho-X jacket (thanks to ARNie33!).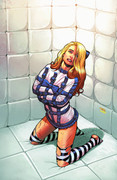 ---
Return to the Home Page
---
---